Hoboken's 2nd Ward Councilwoman Tiffanie Fisher discusses the city budget in her latest newsletter: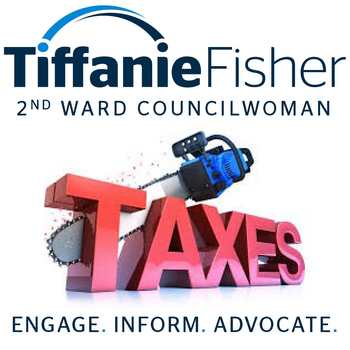 Dear friends and neighbors,
Two months ago, back in early April, Mayor Bhalla introduced his 2021 municipal budget with no change – aka flat – to our local taxes.  Better than an increase, stating the obvious, at the time, I scratched my head on how this could be given he was injecting $7M of non-recurring revenues into the budget from the American Rescue Plan relating to last year's lost revenues from COVID.  Budget math, in case you are unaware, is fairly simple:

So to keep the equation balanced, if you were adding $7M onto the revenue side you basically have two choices or some combination thereof to balance the equation:
Increase expenses:

Or reduce other revenues (which includes the tax levy)

Continuing with similar graphics, this is how the mayor's flat tax budget compares to the proposed City Council amendment:
Mayor Bhalla's Introduced Flat Tax Budget.

Current Budget Amendment Proposed by City Council Members

Effectively it reduces spending by a net $2.7M and delivers this as a $2.7M tax reduction to residents and taxpayers.
Unfortunately, the proposed budget amendment was quickly 
VOTED DOWN 4-5
 by Councilmembers Cohen, Doyle, Falco, Jabbour, and Russo without any meaningful discussion.  If interested, you can watch the discussion 
online here
 – it is first and starts at 7:03 pm and goes to about minute 7:11 pm.
I would encourage you to ask directly why they did not support a the proposed tax reduction.  The few comments about the proposed amendment provided little insight and included: it ignored Councilwoman Falco's proposed amendment (which I had fully incorporated), it was "redundant" to Councilwoman Falco's (which was limited to increasing much needed spending for the city's rent control office), and it circumvented the subcommittee process, which it didn't.  Although it isn't necessary, I had submitted a substantially similar proposal three weeks earlier on May 12th but the finance subcommittee never met after the 11th in order to consider it.
WHAT IS IN THE PROPOSED AMENDMENT?
Let's start with the couple of additions.
Rent Control – here we basically added enough funding to restore the office that had been significantly reduced by the administration last year.  Down from three to just one person to run an effort that touches thousands of Hoboken residents – both tenants and landlords – the majority of the City Council insisted that the rightsizing Mayor Bhalla talked about in his budget include reinvesting in this critical department.  I joined Councilwoman Falco and Council VP Giattino and met with the head of the Rent Control office to discuss what was necessary for the office to be a fully functioning service to the members of our community.  This included adding back the 2-3 people that had been laid off, adding a transcription service for Rent Control Board meetings (like other municipal boards), updating very old computers and technology, and investing in digitizing the departments paper files.  The latter has been a priority of the City Council at least as long as I have been on the City Council, but never actioned.  In aggregate, this came to increasing the budget by $150k.
Castle Point Terrace and Court Street Repairs and Rehabilitation.  Most of the roads in Hoboken are resurfaced every several years which is fairly easy given they are asphalt.  But these two roads – both non-traditional surfaces of brick and cobbles and very old – are some of Hoboken's most historic and to the best of anyone's knowledge, have never been fully repaired.  Both are effectively showing signs of collapsing and are at a point where safety is now a driver behind a restoration project.  A process started two years ago for both these roads that was paused.  But this budget reignites both and includes $250K for the capital improvement fund as the requisite down payment towards what has been estimated to be a $5M project to restore both.
Now to the cuts.  The proposed cuts in spending generally include areas where increases were excessive:
Salary Adjustments – reducing what was a $1.1M increase by $1M.  These are reserves for future salary increases.  The amendment maintains $660K which is still 32% higher than last year.  Although I support some level of "accruing" for future salary increases, the overriding view is that ARP funds should prioritize taxpayers today and not soften financial discipline and transparency on cost increases like salary and wages in the future.
Reserve for Tax Appeals – eliminating what was a $0.75M increase.  The amendment maintains $250K which is the same as last year.  The city has $3M in our tax appeal fund and has not exceeded payouts of 700k in any year and is mostly much less.  So even at $250k we have more than enough to fund tax appeals and better allocate these savings to taxpayers today.
COVID Salaries – reducing further by $.5M what was effectively already a $0.35M decrease relating to both salary and other COVID expenses for 2020.  The amendment still maintains $500K which is approximately 5,000 OT hours this year, or 100 hrs / week, if you assume an average OT rate of $100/hr.  This anticipates reduced COVID needs this year vs. 2020.  If this changes, we would expect future COVID funding sources would again be available for all cities impacted.
Hoboken Parking Utility – reducing by $.5M what was a $1.1M/  51% increase.  Well above historic spending with no justification provided made this increase fall into the "excessive" category.  The amendment still leaves $.6M of an increase in, or 30%, keeping closer to historic levels and reallocated the rest to give taxpayers a benefit this year.
Election Costs – reducing by $140K of what was a $184K/245% increase.  Increase assumes 100% possibility of runoffs in November in our local elections.  At this point there is nothing to suggest this will be the case.  As we have done on other occasions with other situations where a potential event triggers increased spending – like the possibility of July 4th fireworks returning to the Hudson – we address the event as and when instead of budgeting for it. Being November, if there is a runoff, we can make a line-item transfer at the time to fund additional costs over and above what is budgeted.
Police Salary and Wages – reducing by $100K what was a $770K / 4.4% increase.  The proposed cut still results in an almost 4% annual increase and considers Chief Ferrante's retirement and timing of future hirings and promotions.
Corporation Counsel Salary and Wages – reducing by $80K what was an $86K / 20% increase.  Keeps staffing levels at one Law Department head, two associate corporation counsels and one legal administrator.  If the Mayor requires a third assistant corporation counsel to effectively be a full time legal advisor to the mayor's office then he / we should consider moving this role and funding need back to the mayor's office.
Parks Salary and Wages – reducing by $50K what was a $314K / 71% increase.  Maintained a $264K / 60% increase vs 2020 budget (and 23% increase vs. 2019 budget).  The $50K cut is equivalent to one employee.
WHERE WE ARE NOW
The Finance subcommittee met this afternoon and I answered and submitted my responses to several questions they sent to me last night on the amendment I proposed.  We will be taking another stab and if nothing else, there is again a budget amendment on next Wednesday's Agenda which I have attached to this email.  I would expect this to change between now and the meeting, but it is a start.

Delaying the budget is bad for residents and taxpayers.  It is that simple and we did not want to delay any further so we introduced the proposed tax reduction amendment which has started the dialogue on reducing your taxes.  I am confident when all is said and done, the City Council will come to an agreement on some level of tax reduction for you.  At the heart of this is the my view that we work for our taxpayers, they don't work for us.
I will send Weekend Reading Part 2 – Everything Else, tomorrow.  As always, please forward to anyone you think may be interested in receiving this.  Feel free to email me at 
hoboken2nd@gmail.com
 or call me at 201-208-1674 to discuss what you have read or anything else that is important to you.
TiffanieFisher
Hoboken City Council, 2nd Ward
Engage. Inform. Advocate.
"More Voices are Better"
HUDSON TV CONTEST READ BELOW
========================================================================
EARN $$$ WITH YOUR PHOTOS OR VIDEOS
Once a month, Starting Jan 1st, 2022, We will be giving away up to $300.00 dollars for photos or videos of breaking news that get the most engagement on our Social Media pages.
To Participate, Please send us an email to info@hudsontv.com with your name, phone number, and photos or videos of breaking news with a brief description of the location and time taken.
Please note the following:
You must own the content.
Photos or Videos published on social media pages or any other news outlets, DO NOT qualify.
Good luck to All.