Hoboken At Large Council candidate Paul Presinzano of the Independently Together slate unveils plans for parking expansion, a new swimming pool and recreation program upgrades:
BREAKING: Hoboken City Council Candidate Paul Presinzano Reveals Plans to Expand Parking Capacity, Build a Public Pool, and Upgrade Recreation Programs in Hoboken
HOBOKEN, NJ – Paul Presinzano, a candidate in November's City Council At-Large election on the Independently Together slate, has revealed his plans to expand parking capacity and upgrade recreation programming in Hoboken. These plans will include investing in additional municipal parking garages, reducing the fee for overnight city-owned lots, building a new community center and public pool, and creating a resident advisory board for recreation programs in Hoboken.
"After connecting with many of my Hoboken neighbors over the past few weeks, I have confirmed what I already know to be true, that we need new ideas to change the direction on parking and recreation," said Paul Presinzano, Hoboken At-Large Council Candidate. "As your voice on the City Council, I will advocate to expand public parking capacity in Hoboken and finally build the community center and pool that Hoboken was promised and deserves. The exact opposite of what is being proposed by the administration."
Paul's parking plan takes an important step forward in acknowledging and addressing the reality that parking continues to be squeezed in Hoboken due to significant population growth and increased competition for curb space from other valuable uses like delivery services, car shares, bike shares, electric charging stations, larger vehicles and pedestrian safety improvements. The components of Paul's plan for expanding parking capacity include:
Building additional municipal parking structures in the southwest and northwest areas of Hoboken where residents and businesses are currently underserved. With high demand to develop in Hoboken, we need to carve out and reserve space today – whether on city owned property or as part of a redevelopment agreement. We also must immediately reverse course on the mayor's new plan to convert the city's lot adjacent to the Northwest Resiliency park to luxury residential instead of a municipal garage and community center.
Lowering pricing on overnight parking in Municipal Garages to incentivize people to park and free up street parking. Residents can pay to enter municipal garages after 6 p.m. and before 10 a.m. Clearly this system isn't working as is given the fact there are between 500 and 700 parking spaces available nightly. Taking 500+ cars off the street nightly will help free up space for residents and small business patrons and create safer streets for everyone.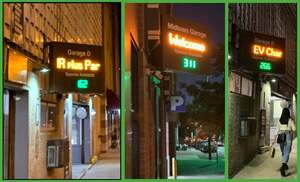 Incentivizing those with off-street parking to park off-street. A fundamental component for the city's approvals of high density residential projects is for the project to provide between ½ to 1 parking space for every residential unit built to minimize the building's impact on already scarce street parking. But when these spaces go unused, and residents of these buildings are still utilizing street parking, this defeats the entire purpose of requiring onsite parking. We must find a better way to incentivize residents to utilize off street parking if available to them.
Partnering with private garage and lot owners to create shared parking arrangements. There are many private owned garages and parking lots that have an abundance of unused parking spaces. Shared parking arrangements could be similar to the city's overnight and emergency parking programs and would be a way to better utilize land for parking purposes and create parking options throughout the city.
Collaborating with HPU, the Chamber of Commerce and the Hoboken Business Alliance to create a mobile app to make it easier to find parking in Hoboken. When I go into New York City, I'm able to open an app and reserve a parking space at the click of a button. Hoboken municipal garages aren't even on the maps right now and developing this technology would benefit residents and businesses alike.
Installing more technologically advanced Electric Vehicle Charging stations.  Hoboken has some of the highest numbers of electric car owners. We need to develop partnerships with EV manufacturers and get them to invest and bring the most technologically advanced charging stations to Hoboken. The city has made a small dent with the recent grant funded installation of EV charging stations, but these are already older technology with lengthy charging times. I am also proposing we partner with Academy Bus which owns significant land in Hoboken's north end and recently installed EV charging stations for buses.
PAUL'S PLAN FOR RECREATION is anchored by building the long-promised community center and first public pool in Hoboken. With a 20% population growth in the past decade, a new facility is critical to expand programs that match the needs of residents of all ages. The components of Paul's plan for expanding Hoboken's recreation program include:
Immediately begin building a new community center with a pool. Having a public pool would allow us to offer swimming lessons to kids and aquatic exercises for seniors. We need to push back on the mayor's plan that threatens construction of these long overdue facilities in Northwest Hoboken. The city must also explore other locations and consider partnering with the Hoboken Community Center as it enters the early planning stages to restore and expand the former YMCA. Because of the actual time to plan and build a facility like this, we need to start this now instead of just talking about it.
Developing a better programming schedule for field space to make recreation more accessible. As a parent, former athlete, and coach, it is frustrating when neighbors tell me their children could not play a sport because spots were filled and there were not enough facilities for additional teams,  and it is heartbreaking to learn that those left behind are often the kids that could benefit the most.  We need a smarter approach to make better use of our field space and our sports programs more widely accessible.  Whether Mama Johnson field, which is often empty or used by an outside sports provider, or our new basketball court at 770 Jackson Street that, instead of using nearby Jubilee Center or even City Hall, is currently being used for vaccines instead.
Expanding programming for residents of all ages, particularly teens and seniors. Hoboken's current recreation program focuses exclusively on children's sports activities. Not everyone is interested in sports, and we should begin offering programs such as dance, cooking, arts and crafts, martial arts, yoga, photography and teen nights. Setting up a formal process to collect recommendations for future programming is critical to this.
Establishing a resident advisory board for recreation. Many cities have a board that allows residents to provide input and feedback on the operations and offerings of recreation programs. I'm proposing we establish our own board to ensure programming aligns with the needs of the community and are representative of all Hoboken residents.
Bringing Hoboken's recreation signup into the 21st century. Navigating the city's current recreation website is nearly impossible. As a critical part of the quality of life for families and residents, we need a more streamlined and accessible process that allows people to more easily learn about and register for our recreation programs.
"As your elected representative, you have my word that I will be a fresh voice on the City Council who is going to tackle these issues head on until we finally see the results Hoboken deserves." 
concludes Paul Presinzano, Hoboken At-Large Council Candidate.
 "I hope you will consider voting for me and my running mates Cheryl Fallick and Sheila Brennan in this upcoming election because we are 
Independently Together
 for Hoboken. To learn more about our team, 
IT4Hoboken.com.
"
*********
HUDSON TV CONTEST READ BELOW
========================================================================
EARN $$$ WITH YOUR PHOTOS OR VIDEOS
Once a month, Starting Jan 1st, 2022, We will be giving away up to $300.00 dollars for photos or videos of breaking news that get the most engagement on our Social Media pages.
To Participate, Please send us an email to info@hudsontv.com with your name, phone number, and photos or videos of breaking news with a brief description of the location and time taken.
Please note the following:
You must own the content.
Photos or Videos published on social media pages or any other news outlets, DO NOT qualify.
Good luck to All.