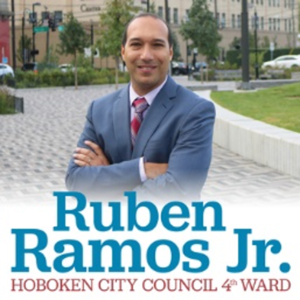 Dear neighbors,
I want to take a moment to wish you and your family a healthy and happy Thanksgiving!  I hope you get to spend quality time with your loved ones.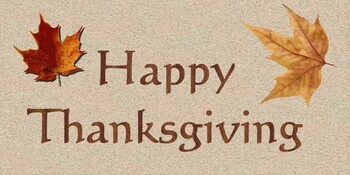 A few updates as we head into the holiday season.
Multi-Service Center Redesign (Update)
City of Hoboken issued a call for Public Bids for Multi Service Redesign on October 31, 2022 and bid process closed November 21, 2022. Bids will be reviewed over the coming weeks which includes an interview with all of the applicants.  After the review/interview process is completed an awarding of contract will be awarded and the public process will officially begin.  Public input is paramount and I look forward to working with everyone to deliver a much needed upgrade to our recreational facilities.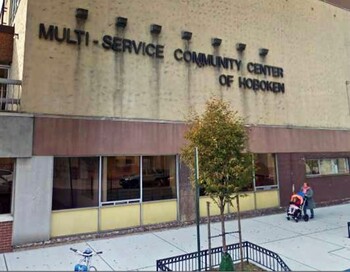 Hoboken Housing Authority Redevelopment Plan (Update)
At the beginning of summer, the City of Hoboken hired a planner who conducted a study to see if the HHA property qualified as an area in need of redevelopment.  This study was received and reviewed by Hoboken officials in October and was reviewed by the Hoboken Planning Board at their November 10th meeting where they declared that the area met the criteria to be deemed an area in need of redevelopment.  This was then followed by a City Council unanimous vote of approval at our November 16th council meeting.  The next step will be to conduct a public bid to identify planners who will work with the City, the HHA and Hoboken residents to conduct a public process to reshape and revitalize the Hoboken Housing Authority and ultimately improve living conditions for our HHA residents.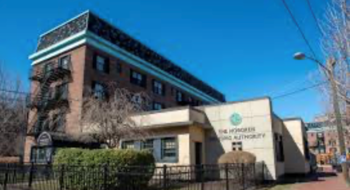 Pedestrian Safety/Bike Lane
Since the updated traffic patterns in SW Hoboken have been implemented, we are continuously evaluating how the new patterns impact pedestrian safety.  We've requested that Hudson County place additional STOP signs on our 1st Street corridor traveling east.  First Street is a Hudson County road and any changes must be approved at the County level.  Hudson County's study began in September and we are hopeful upon review of the data that Hudson County will approve our request.
Additionally, after a year of work, a bike lane connecting Hoboken and Jersey recently opened on Henderson Street and Marin Boulevard , connecting Observer Highway in Hoboken to 18th Street in Jersey City.  I am appreciative of the collaborative effort of Hoboken and Jersey City to make this possible.  It is never easy to get multiple agencies and municipalities on the same page so we are proud of our effort to produce this positive outcome.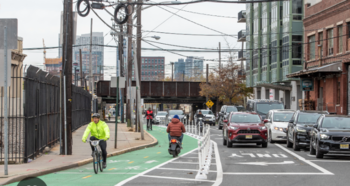 Bus Stop Relocation
The eastbound bus stop on Paterson Avenue & Harrison Street will be relocated from its current location near the intersection to mid-block. This change will help traffic flow and increase pedestrian visibility when crossing the intersection.
Christmas Toy Drive/Winter Wonderland
Fourth Ward based community organization
Familyhood
has organized a toy drive to distribute gifts at the Saturday, December 10 Winter Wonderland event at the Hoboken Housing Authority.  Their Amazon wishlist is here: 
Amazon.com
.  This event is in collaboration with
Familyhood, Hoboken Police Department and the Hoboken Housing Authority. 
My heartfelt thanks to all involved to make this happen!!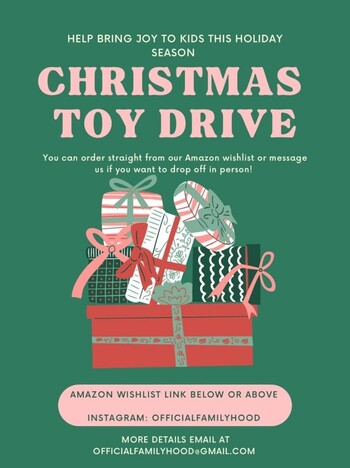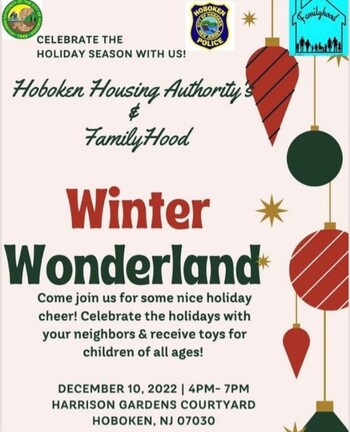 Meet and Greet
I will be hosting a meet and greet on Tuesday, December 13th at Cafe Sophia from 6:30-8:30 PM.  Stop by and say hello, ask questions and just have a conversation about our neighborhood and city. Pizza and beverages will be provided.  Looking forward to seeing you there!!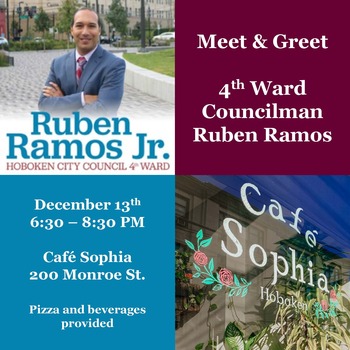 Lastly, I may not get everything right but rest assured I take great pride in being your City Council representative and you will always get my 100% effort to improve our city.  I am an independent City Council member who has a healthy working relationship with all of my council colleagues.  My independence helps me advocate more effectively on your behalf because my number one objective is to put your concerns at the forefront and not those of any outside special interest groups.  If you ever have any questions or concerns please reach out at Councilmanramos4@gmail.com or at 201-401-7947.  My job is to serve you.