Hoboken's 2nd Ward Councilwoman Tiffanie Fisher has released her latest newsletter.  She takes the time to respond to a recent incident at the Board of Education meeting which she believes was an attack directed at her: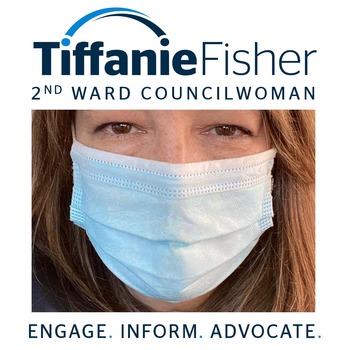 January 19, 2022
Dear friends and neighbors,
Before I get to the proposed high school, I wanted to share with you something that happened.  This past Monday night I saw
this video clip from the 1/11 BOE meeting
on social media.  The speaker makes several disparaging comments, including:
"We have an advocate…doesn't have any children…didn't…not married…didn't do IVF, didn't adopt, doesn't foster, doesn't coach a team…but we are going to listen to her on this nonsense? She can come to my house…I have four kids…I'll leave her there for a week.  I will come and pick up the body later."
This is presumed to be directed at me, but it could have been to others as well.  I know, speechless right?  I was too.
It's not just the "you don't have kids, therefore you can't have a say on the proposed high school" rhetoric that in and of itself is ridiculous.  It is the reprehensible string of words he uses that objectifies a woman's path in life and perceived choices of having children, or in this case, not having them.  This is wholly unacceptable and shouldn't be tolerated.
I wasn't sure if I was going to say something publicly or not other than my brief Twitter response which seemed to bring attention to it: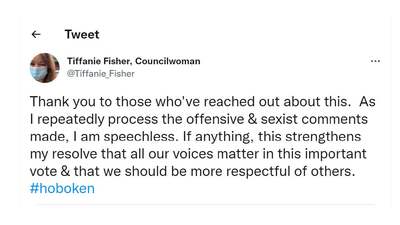 But his choice of words brought so many people to me in the past two days, men and women, friends and strangers, sharing their own frustration and disgust, their own personal stories, and their overall support for me.  I have a thick skin, but I can tell you that every single message I received moved me in a way I didn't expect.  So thank you.  Your words told me that this matters to many and gave me the resolve I needed to share more broadly in the hopes we can bring this type of language to an end.  Quoting Martin Luther King Jr. in his spirit this week,
"Our lives begin to end the day we become silent about things that matter."
What can you do?  Value, support and appreciate all the women in your life and the paths they take whether chosen, or not.  And tell and teach others to do as well.  #PayItForward
The one positive that has already come from this is an overwhelming feeling of the amazing sense of community that only Hoboken has.  It is what makes this place so special.  And we cannot forget that.  This BOE Referendum Vote has devolved to personal attacks and rhetoric that risks dividing this core fabric of our community.  And the worst of all, is the negative comments about Hoboken's own youth.  What else can you do?  Resist the urge – whether you are a 'yes' or 'no' vote, resist the urge to use hurtful language against others because of their choice.  We live in a democracy where all votes matter and more votes matter.  #BeHoboken
---
Back to the proposed High School…  
Today I went to the County Clerk's office and I voted NO on the $241 Million Referendum for a Proposed New High School.
And as I said in my last newsletter, my No vote is a Not Yet / Not This vote.  I believe in the enrollment wave, I believe in the need for updated facilities.  I believe in Hoboken's youth and investing in our students.  But I want to see the Board of Education, if the referendum doesn't pass, solicit community input and come back with an informed alternative that is still an amazing investment in our youth, but a better fit for our community.
Like I am sure many of you have done, I have been watching and listening and participating in many discussions about it.  I have read the BOE's FAQ that they have continued to populate with information.  And although I did not attend the in-person info sessions, I did watch the virtual one on the 13th.
To me it came down to the proposed New High School having:
Excessive, costly amenities that will be underutilized;
Unprecedented high cost per both student and per square foot;
Unprecedented lack of any alternative funding – state or otherwise – to offset the heavy tax burden to taxpayers; and
Too much uncertainty around the promised community access to the facilities.
With a little more time and more people at the table, I am confident these could be addressed in a way that works for more.
And I would be remiss if I didn't say the process the BOE followed felt un-Democratic, at best, with what seemed like hopes for low turnout from targeted voters.  I just don't see how our community can commit to the largest taxpayer funded investment in history without any public or taxpayer input, without any process that considered alternatives or encouraged the best design, or a process that did not create a level playing field for all voters.  It isn't the good governance we all deserve.
In the past, when a "No/Not Yet/Not This" type vote or voice was given – whether for the proposed massive residential and hotel development on what ultimately became Pier A Park or the Rebuild By Design project that originally was going to have a wall built down Garden Street, but will now have an amazing waterfront park – we saw that when more voices in our community come together, the outcomes are better for many instead of just for a few.  #morevoicesarealwaysbetter
The Board of Ed has already offered to come back with an different alternative and as I said previously, and I  think we should take them up on this offer.
I do want to discuss one specific piece of this puzzle that stood out to me from the beginning as I think it is critical to the discussion on taking a new and different approach with the proposed New High School…
THE HOCKEY RINK – THE FACE OF THE COSTLY AMENITIES
The proposed Hockey Rink IMHO embodies why we need community input on this plan and a more researched plan that is a better fit for our community.
The hockey rink is extremely expensive to build as proposed – embedded inside a building requiring expensive super structure to support it,
Hockey is a very expensive sport that not all kids will be able to afford,
We don't have the volume of Hoboken High School students to fully utilize the rink, and
The rink is very costly to maintain.
Because of these, if Hoboken taxpayers were to invest in a hockey rink, maybe we should consider doing so as part of a community center run by the city, not captive inside a high school run by the Board of Education.  So if the referendum doesn't pass, one idea is to consider a public-public partnership with the City of Hoboken for a shared community center, run by the City of Hoboken.
Build It and They Won't Come… For a While At Least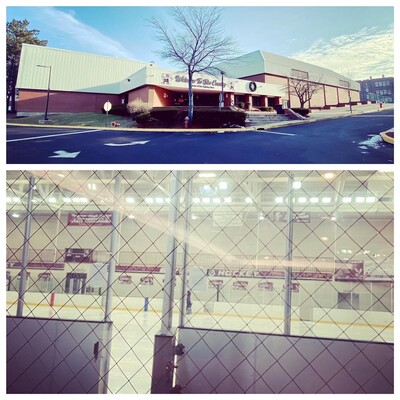 I drove 20 minutes to see Bayonne's Korpi Ice Rink last week because this is what people point to as an example.  I just wanted to have a peek at what it looked like but I was lucky enough to be offered a tour while there and was able to get some good information.
Bayonne's rink is in a standalone recreation building, with the rink effectively built as its own free-standing building adjacent to and part of Bayonne High Schools large campus of buildings.
The Hockey rink serves the 3,200 Bayonne High School students, ~8 x Hoboken's current high school enrollment, and multiple hockey leagues.
The facility used to be used 24/7 by the community outside of school hours but demand has subsided significantly and now the facility is only rented out between 25 – 40 hours per week (seasonal) during the year; this includes the Hoboken / Weehawken youth hockey and a few hours for community open skate.
The rink can accommodate approximately 1,800 students taking skating as a physical education elective (assuming 2x per week) during the school year.
The cost to maintain is very high, and they have had to replace the rink and the pipes.
There are approximately 100 parking spaces near the rink that are free and open to the public after school hours.
So with only 420 current High School students, the proposed Hoboken rink would never be more than 25% utilized during the school day assuming 100% of all Hoboken High School students took a skating elective at least once during the year.  And the BOE has not yet provided any actual estimates of use outside of school hours to support the considerable cost to operate.  Including a zamboni to keep the ice fresh year round.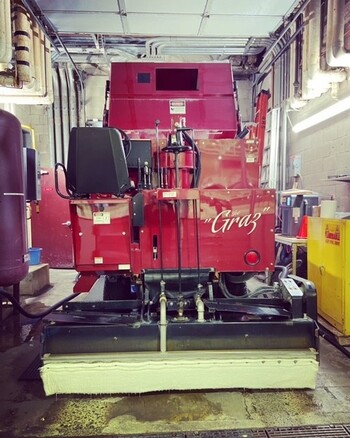 'Suspended' Hockey Rink – Not Your Average Rink
Like Bayonne's and the proposed new rink in Weehawken along the waterfront, most local hockey rinks are built on ground in free-standing structures that have ceiling / roof structure that are not required to bare weight.  The one being proposed in the New High School is different, effectively suspended above the ground:
built on the 2nd floor above proposed resiliency infrastructure
built below the 4th floor which houses the football field.
So a typical community hockey rink:
doesn't have to build a floor structure strong enough to hold 90 tons of ice over a water retention system;
doesn't have to build the walls of its column free space strong enough to help hold up the entire surrounding building; and
doesn't have to build its ceiling structure strong enough to support thousands of people, snow, and rain.
The cost of those extra requirements to build a "suspended" hockey rink is crazy more expensive.  The BOE's architect threw out a $3 million dollar number, irresponsibly IMHO, for the cost which is not supported anywhere and 50-100% lower than estimates for a free-standing community rink.   But how can a column free space that changes the cost of the entire super structure and is roughly 10% of the buildable space of this proposed New High School only cost 1% of the total cost?  It can't.  We need to understand what the building could be without these and what it would cost.
The Hockey Rink – Driving the Design
If you look closely at the plans, you see that the entire school was built around the Hockey rink being a "necessary" amenity, not a "wouldn't it be nice" amenity.  The Hockey rink takes up almost 20% of each the 2nd and 3rd floors and blocks the ability to design classroom space along any of the northern, southern, and eastern edges of the footprint which would allow for necessary windows.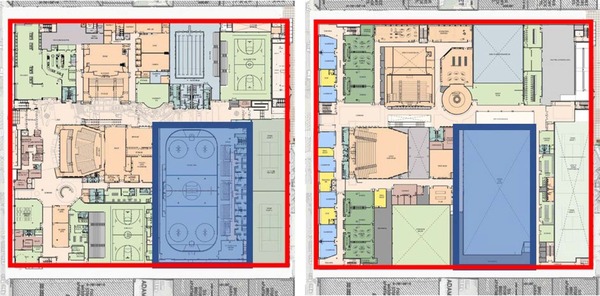 The hockey rink seems to drive the reason for the building footprint to be greater than the size of the rooftop field / track, the extended height of the Jefferson St. classroom tower, and the reason the architect had to 'fill the rest of the space under the field' and did so with extra, costly amenities.
If the referendum doesn't pass, I would like to see what a building could look like without such a costly feature as the Hockey Rink and the other fillers including the 2nd auditorium and 2nd gym.  Or alternatively a plan that might include these community spaces, but is actually designed to be a separated community center that is paid for and managed by the city, and leased to the BOE for their needs.  The latter would ensure that all of the so called public amenities get the maximum possible use.
I recently spoke to a district parent I know who is a champion for the district, and a big, loud 'yes' vote for the proposed new high school.  I don't know her that well, but I have known her for a while and I respect her immensely including her view and her vote.  She asked if amidst our debate, even if I didn't support the proposal, could I show my support for the district – a message that seems to be getting lost in all this.  To me this was a no brainer.
I am exceptionally supportive of our district schools.  I actually support all of our schools and have tried to participate as and when I have the opportunity to.  Without kids though… well, you know.
I have known and regularly have spoken with Dr. Johnson since 2016, when I first learned in a City Council meeting of Hoboken's "doubling of kindergarten aged children in just five years".  We spoke then about her huge challenge of getting enough vouchers, and ultimately classrooms, for the preK classes in those early days with long waitlists, last minute decisions and her heart break that those with greatest need could not be given highest priority under state law.  I spoke with her about her desire to make Hoboken a "Model Urban School District", the challenges of income inequality in education in Hoboken specifically.  I learned of her steadfast focus on making sure that schools addressed as many of the needs of district students as possible, regardless of their background; the programming she added to catch kids before they were lost, regardless of their background; the expanded curriculum she created to allow kids to meet their greatest potential, regardless of their background; and her tremendous focus and energy on creating bridges in our community, even when certain environments (like Hoboken's special form of politics) doesn't seem to have this shared interest.
And with all this, I was armed and ready and have spoken to many Hoboken residents who have reached out to me, especially new ones, advocating for why they should send their kids to the district schools.  And when I have door knocked for re-election, and when "education" is the answer to my question "what issue is most important to you?", even though the City Council doesn't have purview over our schools, I wax poetic about them and often connect parents with my friends who are district school parents or school board members.
I am a huge supporter of our schools.  And I feel I can be this, and still vote 'No' for the proposed New High School because I am also a huge supporter of our entire community.  And I think working together, we can achieve something better for all of us.
Please forward to everyone you know who may be interested in this subject.  Also, I was given about 20 free family skating passess to Korpi Ice Rink to share.  Let me know if you would like one!
Feel free to email me at
councilwomanfisher2@gmail.com
or call me at
201-208-1674
to discuss what you have read or anything else that is important to you.
TiffanieFisher
Hoboken City Council, 2nd Ward
Engage. Inform. Advocate.
"More Voices are Better"
HUDSON TV CONTEST READ BELOW
========================================================================
EARN $$$ WITH YOUR PHOTOS OR VIDEOS
Once a month, Starting Jan 1st, 2022, We will be giving away up to $300.00 dollars for photos or videos of breaking news that get the most engagement on our Social Media pages.
To Participate, Please send us an email to info@hudsontv.com with your name, phone number, and photos or videos of breaking news with a brief description of the location and time taken.
Please note the following:
You must own the content.
Photos or Videos published on social media pages or any other news outlets, DO NOT qualify.
Good luck to All.