Hoboken's 2nd Ward Councilwoman Tiffanie Fisher just sent out an email blast to constituents requesting that they fill out a survey on the Effects of Ida on their properties prior to the City Council Meeting this evening.
The Council will be meeting with the North Hudson Sewerage Authority and getting answers on the recent storm and related flooding.
Here is Councilwoman Fisher's email requesting public participation in the survey: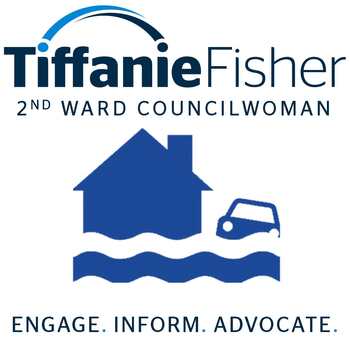 September 22, 2021
Dear friends and neighbors,
There are a zillion things I want to update you on, but one in particular couldn't wait.   At the request of Council Vice President Giattino, on TONIGHT's (Wednesday) City Council agenda, representatives from North Hudson Sewerage Authority will be presenting and also answering questions from the City Council about the recent storm and related flooding.  They will be starting promptly at 7pm.
This meeting will NOT be an interactive Q&A with the public.   But… it will be interactive between the Council and the NHSA.  So, I need two deliverables from you:
Please FILL OUT THE SHORT IDA SURVEY (click) I just put together sharing any and all info you can with me about your experience in the last storm.
Please WATCH THE MEETING (details below) so you can learn more.
Regarding the SHORT IDA SURVEY (click)
 – the point of this is to provide me with information about the breadth and depth of the recent flooding and questions that I can ask on your behalf tonight.  I already have your email but am asking for it again so that I can then, if needed, send an email back to those who responded.  I plan to share all or part of the responses with the NHSA.  If you are getting this after Wednesday, please still take the time to fill it out.
How to WATCH THE MEETING:
If you want to participate during public portion of the City Council meeting, you can join by ZOOM (click)
Thank you for your participation!  #morevoicesarealwaysbetter

This is the topic on everyone's mind still because of the extent of the damage caused by Ida and one that will and already is being positioned to be front and center in this election – which is good because it is so important and bad because it comes with false promises of grand solutions.  If I can caution one thing, just remember that it is in fact election season and question the source, sponsorship, and integrity of all the information that comes before you on this or any topic.  Do your research and ultimately pick the people you actually believe will actually be a strong voice and fight for you on issues important to you.  You will hear plenty from me over the next 41 days on this subject, and that is not a false promise.
As always, please share this with anyone you know who may be interested and reach out any time on any issue important to you: 201-208-1764 or 
CouncilwomanFisher2@gmail.com
.
TiffanieFisher
Hoboken City Council, 2nd Ward
Engage. Inform. Advocate.
"More Voices are Better"