Hoboken's Sixth Ward Councilwoman Jen Giattino's latest newsletter: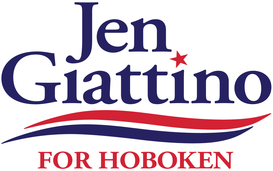 Dear friends and neighbors,
As the year comes to an end I wanted to take the time to express my gratitude to my friends, neighbors and family. Our Hoboken community is what makes our town so special and I thank all of you for playing a role in it.
At the last council meeting we saw the community come out in strong opposition to the Story Dispensary.
Unfortunately
the council voted in support of the dispensary (5/4 vote). I have been struggling to find a positive spin on this outcome and I finally have. It is all the residents that took their time to show up to meetings, voice their opinions and concerns, and care about the future of Hoboken. It is folks like you that make me so proud to represent you on the City Council. I am always willing to take the time to hear you and help in any way I can.
Positions to boards typically happen in the beginning of the year. THE BOARDS/COMMISIONS  that will have openings in January are Zoning Board, Planning Board, Shade Tree Commision, Arts Advisory Board, and Historic Preservation Commision. To apply click here  Should you have any questions about any of these positions please reach out.
A few weeks ago Hoboken launched a Textile Recyling Program. The Bins are located behing City Hall and in Church Square park.
The program accepts the following items in any condition:
clean clothes 

shoes
sheets
towels
handbags
clothing accessories
Wishing you peace, joy and happiness in the New Year.
– Jen