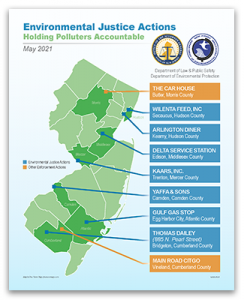 TRENTON – Attorney General Gurbir S. Grewal and Department of Environmental Protection (DEP) Acting Commissioner Shawn M. LaTourette announced today the filing of nine new environmental enforcement actions across the State, including seven to hold polluters accountable for contamination in environmentally overburdened communities.
The seven lawsuits focused on overburdened communities address pollution in Camden, Trenton, Kearny, Secaucus, Edison, Bridgeton and Egg Harbor City. The two additional cases are based in Butler and Vineland.
Collectively, the Complaints involve a broad range of alleged environmental abuses by the defendant property owners and other responsible parties, including:
Illegal dumping that allowed massive quantities of contaminated soil, construction and demolition debris — along with contaminated old tires and other refuse — to accumulate in near residences;
The release of gasoline and other toxic chemicals from underground storage tanks, contaminating soil and groundwater; and
Releases of chemical and food waste contaminants into stormwater drains and, ultimately, surface bodies of water.
These cases represent yet another component of the Murphy Administration's comprehensive effort to address harms disproportionately affecting the health and well-being of the state's most vulnerable populations.
The actions against the two, Hudson County companies are:
Wilenta Feed, Inc., Secaucus (Environmental Justice) 
The State's Complaint against defendant Wilenta Feed, Inc., alleges violation of the State's Water Pollution Control Act. Wilenta operates a food waste recycling business at 46 Henry Street in Secaucus that involves converting food waste — largely bakery products — into animal feed or animal feed ingredients. According to the Complaint, Wilenta has been unlawfully storing its food waste in open-air piles, thereby exposing the waste to stormwater, which enters the sewer system and, ultimately, into such surface water bodies as Penhorn Creek, a tributary of the Hackensack River. In addition to seeking a court order directing Wilenta to halt its open-air storage of food waste, today's lawsuit seeks civil penalties against Wilenta and reimbursement to the State for costs it has incurred, or will incur, to investigate, inspect and monitor the property.
Arlington Diner, Kearny (Environmental Justice)
The State's Complaint against Isaac Moradi centers on a former gas station at 941 Passaic Avenue in Kearny that backs up to an embankment of the Passaic River and that was contaminated with petroleum products including gasoline prior to Moradi's acquisition of the property in 2016. According to the State's Complaint, an investigation of the property in 2007 revealed significant contamination of groundwater and soil, much of it ultimately traced to an out of service, 12,000-gallon underground fuel storage tank. The State's lawsuit alleges violation of the Spill Compensation and Control Act and the common law of public nuisance.
Including the lawsuits announced today, Attorney General Grewal and the Department of Environmental Protection have filed 39 environmental justice cases since 2018. The lawsuits have yielded nearly $20 million in judgments.  More important, many of these cases also have resulted in court orders requiring responsible parties perform cleanup activities to protect human health and the environment. These orders also achieve cost savings to the taxpayers by holding polluters and other responsible parties financially accountable.
"From Day One of the Murphy Administration, we've been committed to ensuring that all New Jersey residents can enjoy clean air, clean drinking water and a safe environment," said Attorney General Grewal.  "That's environmental justice, and everyone deserves it.  The cases we're announcing today are only the latest actions we've taken to deliver on our commitment to environmental justice, and the latest reminder to polluters that they will be held accountable – whether they're illegally dumping waste in our cities or polluting our fields and rivers."
"To further the promise of environmental justice, we must aggressively enforce our laws in communities disproportionately burdened by pollution," said Acting DEP Commissioner Shawn LaTourette. "Enforcement actions like these embody our commitment to protecting vulnerable communities and make clear the consequences for creating or contributing to environmental injustice. My DEP colleagues and I are grateful to Attorney General Grewal and his team for their passion for equity and their partnership in action."
The contaminants at issue in all of today's lawsuits are linked to serious health problems including respiratory distress and certain lung illnesses, cancer, neurological disorders, kidney disease, liver disease and eye damage.
HUDSON TV CONTEST READ BELOW
========================================================================
EARN $$$ WITH YOUR PHOTOS OR VIDEOS
Once a month, Starting Jan 1st, 2022, We will be giving away up to $300.00 dollars for photos or videos of breaking news that get the most engagement on our Social Media pages.
To Participate, Please send us an email to info@hudsontv.com with your name, phone number, and photos or videos of breaking news with a brief description of the location and time taken.
Please note the following:
You must own the content.
Photos or Videos published on social media pages or any other news outlets, DO NOT qualify.
Good luck to All.