The latest newsletter from Hoboken's 2nd Ward Councilwoman Tiffanie Fisher has a wide ranging variety of topics for residents, including some signups for sporting activities, food assistance and more politically geared topics: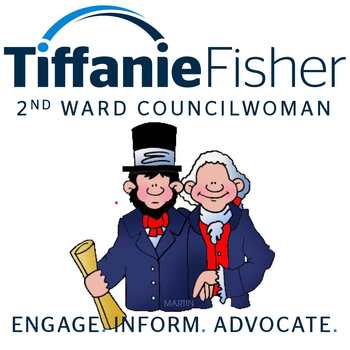 Dear friends and neighbors,
It's clear FriYay night, before a long weekend when I am sending this.  I hope you have some fun plans for President's Day weekend / week and find a few minutes to grab a coffee or drink and sit down and read this. As promised, I have some every day type updates for you to consider as you read this weekend:
Immediate Walkway Upgrades at Former Monarch Site
Little League Baseball Registration
Help For Those Behind on Mortgage and Property Tax Payments Due to COVID?
But first I just want to start with one as a carryover from the email I sent Wednesday…
MAYOR BHALLA – USE YOUR VETO: END CORRUPTION & KEEP BIG MONEY OUT OF HOBOKEN ELECTIONS!
At Wednesday's City Council meeting, as expected, the ordinance that weakens our campaign finance laws allowing big money back into Hoboken's local elections received the necessary five votes to pass.  For the fourth time.
We can still stop this from happening right now, but it is up to Mayor Bhalla who now has two choices:
USE HIS VETO to reflect the will of Hoboken residents to stop the law from taking effect.
Or not, allow the law to go into effect in support of his own personal interests instead of his constituents.
Click to HERE to sign a survey and send Mayor Bhalla a message asking him to do the right thing for Hoboken.
  286 of our neighbors signed the previous version of this petition last December when the ordinance was shockingly first presented.  I only asked one time for signatures and then we went into the year end break and it never got picked up again… until now.  So lets see how high we can get this to.  The petition also allows you to send a pre-written email to Mayor Bhalla as well.
As a reminder, this special interest ordinance was sponsored by Councilwoman Jabbour and Councilman Cohen and received the necessary yes votes from Councilman Russo, Councilman Doyle (a former stalwart for reform in Hoboken) and freshman Councilman Quintero.
---
Now for some lighter updates…
SHORT TERM PLANS FOR FORMER MONARCH SITE
If you were not able to attend the meeting, it was brief but Director Gonzalez walked through the plans to widen the Waterfront Walkway adjacent to the former Monarch site on Shipyard Lane where it meets 15th Street.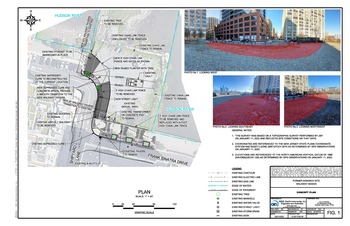 This will SIGNIFICANTLY IMPROVE access to the waterfront along this stretch for the entire community.  She also gave updates that the Weehawken Cove Boat Removal will occur this spring / summer and the walkway along the western edge of Weehawken Cove, that has been cordoned off for the last year or so, will be repaired this summer as well.
REGISTRATION FOR LITTLE LEAGUE UNDERWAY…AND MARK YOUR CALENDARS FOR RETURN OF ANNUAL PARADE!
Registration for the 2022 Little League season is underway and will be accepted through March 4 at 5 p.m.
Baseball (Click here to register) – the leagues are Instructional U4, U5, U6, U7-U8, Minor and Major League (9-12yr olds), and Junior Senior (13-18 yr olds).
And MARK YOUR CALENDARS – the Annual Little League Parade returns April 9th.  Whether you have kids playing, or not, it is worth attending to see all of Hoboken's excited young athletes gather at the Elks club and walk to the little league field.  It is sight and experience to behold.
HIDDEN IN PLAIN SIGHT: DRUG AWARENESS PROGRAM FOR PARENTS AND GUARDIANS OF HOBOKEN DISTRICT SCHOOL MIDDLE AND HIGH SCHOOL STUDENTS
On Thursday, February 24th at 6pm, at the Hoboken High School Auditorium, the Hudson County Prosecutors office is giving a drug awareness program for parents and guardians. 
This program focuses on what parents can learn about everyday items that may be indicators of risky behavior and/or drug use for their preteen or teenager. Attendees will have the opportunity to watch the vignette and ask questions to a team of professional law enforcement officers from the DEA, HCPO Task Force, and the HPD. 
Click HERE to register
.
LASAGNA LOVE

I know you were as attracted to this title as I was…  I just signed up to be a volunteer for Lasagna Love, an organization of volunteers that started at the onset of COVID to make food for people in their own community.  All you need to do to volunteer is be willing to bake a lasagna and bring it to someone who will love and appreciate it.  They do the rest.  I signed up for one time per month, 2 lasagnas and a willingness to travel 10 miles to deliver it.  There is a regional coordinator who will let me know when and where to go.  Imagine doing this with friends, or with your partner or your children.  The kitchen is where love and magic are made, so consider sharing this with others who may need a little of both.
COED ADULT KICKBALL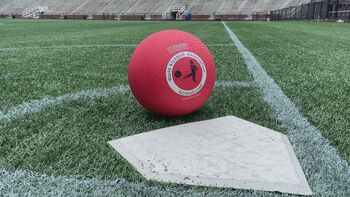 Another captivating title, right?  Brings me back to fond memories of fourth grade… If you are looking for something fun to do, the Hoboken Board of Ed have contracted with Hive Athletics to offer Kickball and Football at Hoboken's JFK Stadium on Tuesday / Thursday nights from 7-10pm beginning in April. 
Click here to learn more and sign up
!
YOUR WATER BILL IS GOING UP 7%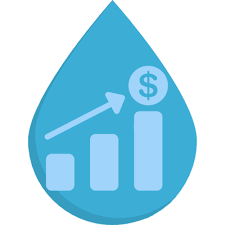 At the 2/2 council meeting, the City Council voted to increase the rate charged by the Hoboken Water Utility by 7%.  Yes, it's a lot.  Yes, I voted yes.  And Yes, the Bhalla administration was not transparent to the public again when they put this through on the agenda.  They seem to shy away from transparency on issues they know are difficult or controversial.  Anyone who reads the agenda would have seen an ordinance which says "water".  Not "water rate increases".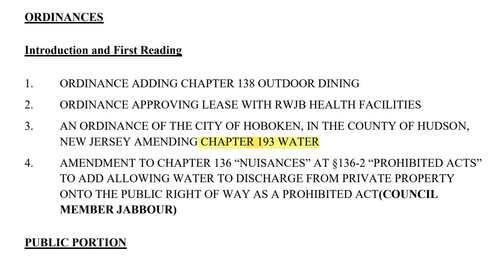 Some background…when I negotiated the economic terms of the original Suez Water contract that we signed in 2017, the terms were such that we were able to recapture over $30 million from Suez over the ensuing 15 years and use this for necessary repairs to our very old water main system.  Which is what we have been doing.  The contract called for annual CPI increases to our water rates which would be sufficient except…. if Jersey City charged us more for the water we get from them.
I asked at the City Council meeting whether we could challenge the JCMUA's rate they charge us and was told No by the administration because the JCMUA did a rate study supporting these rates.  But my question is a different one:  Hoboken contributes 16% of JCMUA's revenues.  Are we really using 16% of JCMUA's pipes to get our water?  JC has 5x the number of people than Hoboken and pipes spread over an area that is 12x bigger than Hoboken.  And JCMUA just committed to replacing all of the lead pipes in Jersey City.  Seems like Hoboken is subsidizing Jersey City's water system disproportionately.  More to come…
HOBOKEN TALKS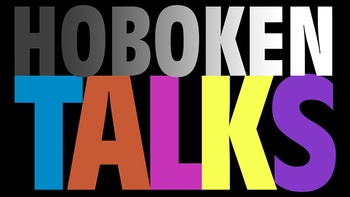 And I don't mean me.  If you haven't yet tuned into this weekly online series by the Hoboken Museum, you should.  Every Thursday night, Bob Foster, the Executive Director for the museum, or one of his team interviews a local, longtime Hoboken resident.  It starts at 7 and goes for one hour.  It is an incredibly presentation of Hoboken's history and lore each week.  You can learn about Old Hoboken, where our strong sense of community and identity first started.  You can learn about the many industries that have only small remnants today.  But mostly, you can meet your neighbors that are still here and bring this history to our current day.
Some examples of guests: 
Greg Dell'Aquilla
who owns the Hoboken Business Center and whose family owned the Hudson Tea Building at one point,
Irene Sobolov
former BOE commissioner and Hoboken royalty,
Dave Carney
who owns Madison Bar & Grill, our County Commissioner
Anthony Romano
(no one tells a story about Hoboken better than him…); last night's was
Stuart Chirichella
who works for the city and is a rising actor (who rivals Romano on story telling…) and many others. 
Subscribe to the museum's youtube channel
to get updates and to find all of their Hoboken Talks videos.  I promise it will make you even more proud to live here than you already are.
OUTDOOR DINING – SHOULD WE MAKE PERMANENT?
On this weeks City Council agenda, there was a first reading for an ordinance to make outdoor dining permanent.
  Just so you know, this is not just a simple yes or no vote.  It is an ordinance that outlines all the myriad requirements that must be met for Parklets and StrEateries to be made permanent.  And effectively it allows all of the existing ones to check a box to go from temporary status to permanent status.
I voted no on first reading because I think we have more to learn and understand before we make these permanent and there is really no pressure to do so at this exact moment.  The ordinance as proposed seems to be a once size fits all which may not work. To me, there are two main questions:
Does the decision to make them permanent need to be made today?
What provisions should be required for their approval?
Addressing the first: we have current, temporary laws that allow them to stay until the end of this year and can easily be extended again if necessary.
The second question is more involved.  Should the provisions be different for different areas like our zoning currently is – for example, restaurants are basically allowed in our commercial areas but in residential areas they require a trip to the planning board which allows residents to have the ability to give input.  An example, when Olivia's was approved – residents came to the planning board in support of having a restaurant there but concerned that it may turn into a boisterous sports bar.  So in its approval, the planning board included some restrictions that would lessen the risk of this happening (smaller bar area within the restaurant, I think only one TV, and no outdoor music).
More considerations – What does taking parking away do to those who live in the neighborhood or for other stores that are not restaurants that rely on parking? What about the aesthetics – do we want them to have certain features and maintained so they aren't bad looking? If they arent used, should they be allowed to stay open and vacant? How should the spaces be priced?  Right now meters generate probably $600-1000/month (12 hrs x 6 days x $2 x 4.33 wks) per spot. And most of the parklets take up an average of 3 spots so $1800 – 3000/month of potential revenue for the city.
None of this is to say we shouldn't make them permanent, but rather let's make sure we have considered all of these issues and that we get public input.
HELP FOR THOSE BEHIND ON MORTGAGE AND PROPERTY TAX PAYMENTS DUE TO COVID?
Although we are hopeful starting to see more bright skies than dark ones, I know several people who fell behind dramatically during COVID due to loss of income.  This popped onto my radar this week and I wanted to share in case you or anyone you know is experiencing this and could use help.  There are income limits but they start at over $100K for single household and are at around $150K for a household of 4.  If you qualify, you can get up to $35,000 to help with your housing costs.  Click here to learn more and apply
New Jersey Housing and Mortgage Finance Agency | Emergency Rescue Mortgage Assistance (ERMA) (nj.gov)
.
THOUGHTS ON BOE SURVEY
Thank you for everyone who reached out about the survey.  To sum up the feedback I received, and I admit that I am still in a bit of a 'no' bubble…  most felt that the survey seemed to be still trying to push the original proposed New High School and not a forum for collecting ideas on how to change it.  Which is a missed opportunity IMHO.  And the community spaces seemed to be a real sticking point.  As one of the speakers said the night of the last BOE meeting, and this speaker was a 'Yes' voter, "we have been given a 2nd opportunity to get to yes, let's not blow it."
Missing from the survey are questions like:
Who do you think should own / manage community spaces – the BOE or the City of Hoboken?
Do you think a Hockey Rink makes financial sense for Hoboken?
Is it a real community facility if it can only be used part of the day and no real open access?
What other types of community spaces could be considered – like dance studios, meeting spaces, or a bowling alley?
Also, I received feedback from a couple of residents who didn't want to fill out the survey because it required an email and asked personal financial questions at the same time.  Others said to me "why do they need to know what ward I live in?".  And most said that the survey seemed to ignore the idea of other possible solutions – one even asked me if the City could give the BOE the land next to the new NW Park that the city owns to build a new middle school and then just upgrade the current high school?"
I am personally anxious to see where the BOE are going with the survey, but hopefully it is not to return with the same proposal.
So, we covered a lot.  I hope you have a wonderful three day weekend and that you spend a little time thinking about the democracy that our past US presidents worked hard to defend.  And also that we need to keep working hard to defend this still, at all levels of government.
Please forward to everyone you know who may be interested in this newsletter. 
Feel free to email me at
councilwomanfisher2@gmail.com
or call me at
201-208-1674
to discuss what you have read or anything else that is important to you.
TiffanieFisher
Hoboken City Council, 2nd Ward
Engage. Inform. Advocate.
"More Voices are Better"
HUDSON TV CONTEST READ BELOW
========================================================================
EARN $$$ WITH YOUR PHOTOS OR VIDEOS
Once a month, Starting Jan 1st, 2022, We will be giving away up to $300.00 dollars for photos or videos of breaking news that get the most engagement on our Social Media pages.
To Participate, Please send us an email to info@hudsontv.com with your name, phone number, and photos or videos of breaking news with a brief description of the location and time taken.
Please note the following:
You must own the content.
Photos or Videos published on social media pages or any other news outlets, DO NOT qualify.
Good luck to All.