After a lot of debate over the past several weeks, the Hoboken City Council voted last night to adopt a municipal budget amendment that will result in a reduction in taxes for city residents by 2.8 percent.
Following the vote, Mayor Ravi Bhalla stated, "After a year and a half of hardship, I'm glad to report that taxpayers will see a tax reduction in this year's budget, providing much-needed relief while maintaining important City projects including water main upgrades, funding for parks, and improvements to critical infrastructure.  Even though we've faced substantial financial challenges during a global health pandemic, our collaboration with the City Council and assistance through the American Rescue Plan has allowed us to produce another balanced budget for the third year in a row. I thank members of the Council, especially finance sub-committee Chair Emily Jabbour, for working with my administration on creative budget solutions. I look forward to this budget's formal adoption in the coming weeks."
Prior to last night's vote, 2nd Ward Councilwoman Tiffanie Fisher put out a newsletter summing up her view on the budget process over the past months.  Here is what she had to say in her newsletter:
After our first proposed tax cut was voted down 5-4 in early June, I made the following public statement:
"The dialogue about doing better for Hoboken taxpayers and residents during this most difficult time was started publicly last night which is important. I am confident that when all is said and done, in the year when most needed, the City Council will deliver a 2021 Municipal Budget that includes a sizable reduction in local taxes and a fully staffed Rent Control office."
And on tonight's agenda that is exactly what is happening.  Up for a vote tonight is an amendment to finalize the City's municipal budget, reduce your Hoboken taxes by approximately 3.24% versus last year and reinstate the most needed Rent Control office that the Bhalla administration had all but disbanded.
But they heard us.  And tonight's amendment being put forth by the Finance Subcommitte and the Administration effectively takes 90% of what we proposed previously, adds a little more use of surplus, some further cuts offset by some adds, and actually decreases taxes a little more by $67K to $1.967M for a total 3.24% tax reduction.  Tonight's rejected many of the specific line items included in the prior versions we proposed that we felt should reduce costs, not increase them.  But this amendment includes a few small  (~1%) changes to big expenses like Group Health and Debt Service instead that add up to real savings.  But nonetheless, the result is your tax bill will be lower!
Here is the quick summary of what changes were made vs. what we proposed: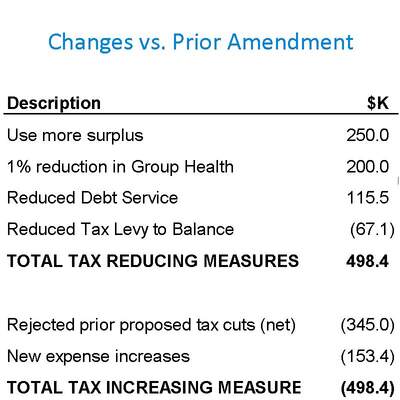 One important provision we had included previously that has not yet found its way into tonight's amendment is funding for the restoration of Castle Point Terrace and Court Street.  This is something that was included in our prior proposed amendments and is something that Council VP Giattino, Councilman DeFusco and I have advocated for for a while given the state of disrepair and the fact that neither road has been "fixed" in decades.  I have a proposal in to the administration to include it this year that I hope they will accept.  These are not projects that will finish this year, but they are projects that need to be started this year so that we can finish in 2022 when the water main repairs are planned to be fixed on Castle Point terrace.  I am hopeful we will get there tonight, but please consider joining the meeting to advocate for this or email the mayor, city council and our business administrator Jason Freeman.
That being said, I am happy that we – and by we I mean those of us who started the discussion on a tax reduction (Ramos, Giattino, DeFusco and me) and those of us who finished the discussion on a tax reduction (the rest of my council colleagues and the administration) – were able to deliver a meaningful tax decrease this year.
The budget amendment approved last night totals $1.7 million with the 2.8-percent tax reduction.  In the end it was approved by a unanimous vote of 9-nothing.