In his latest newsletter to constituents, Hoboken Council President Ruben Ramos highlights the past year and talks about 2022, as the Council is about to hold its reorganization meeting, virtually, on Wednesday night.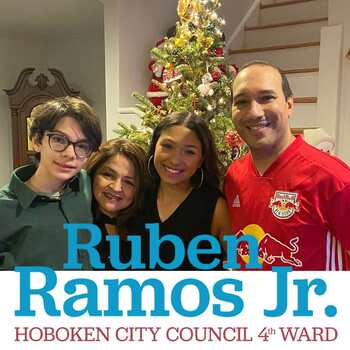 Dear Neighbor,
First off, I would like to wish everyone a Happy New Year! Hope all of you are healthy and were able to enjoy the Holiday Season!
2021 was another year where we faced extreme adversity as a community. I can also share that this past year has been my most challenging as an educator, a City Councilman and as a parent. However, we will continue to push through to meet those challenges head on!!
I would like to once again send my deepest condolences to the families of the two individuals who tragically perished in the Chambord Place fire just before Christmas.  Many businesses have been destroyed or displaced as well and I reached out to the Hoboken Relief Fund and requested that they re-activate to assist those impacted by this heartbreaking event.  You can click here to donate:
https://hobokenrelieffund.com/
In spite of all the challenges we faced, we were still able to have some major accomplishments in 2021:
SOUTHWEST PARK EXPANSION
After years of contention, the city was finally able to acquire Block 10 from Academy Bus Company to expand the Southwest Park. We were able to open the pop-up park quickly so neighbors could begin enjoying it as the planning process for the permanent design is underway.  A key feature of the expanded park will be additional water retention to help further alleviate flooding in what we know is the area most plagued by everyday flooding events in Hoboken.
It has been exciting to see the high volume of usage already of the pop-up park and I hope you will join me and continue to participate in all future public planning meetings.  The Southwest Park is the cornerstone of the revitalization plans for SW Hoboken.
HOBOKEN BUSINESS CENTER REDEVELOPMENT
Another project that has been important to our neighborhood and one I have been advocating for years is the redevelopment of the Hoboken Business Center called The Boundary.  This project received Zoning Board approval earlier this year and will transform the southwest entrance to Hoboken and make the  neighborhood a destination location.  It is comprised of a medical office building, 40,000 square feet for new restaurants and retail stores, ½ acre of an elevated public park space, and a structured parking facility that will offer Hoboken residential holders much needed access to overnight parking at preferred rates. Lastly, the new project will have important resiliency features including a 40,000 gallon water retention system as well as green and blue rooftops.
REDUCED TAXES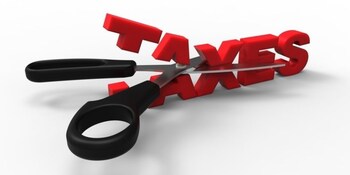 When the 2021 municipal budget was first introduced by the administration it included a 0% change to our taxes.   In the year that the city benefitted from $27 million of revenues from the American Rescue Plan, working with my City Council colleagues we felt we could do better than keeping taxes flat.  So we we introduced two budget amendments, first with a 4.5% decrease and when that was voted down, a second one with a 3.1% tax decrease that was also voted down. Eventually though we were able to compromise with the dissenting councilmembers for a 2.83% tax decrease which was adopted unanimously.  Included in the 2021 budget was $6.4 million of revenues from the ARP.  Obviously, we have work to do to close that $6.4 million budget gap over the next two budget cycles because we will no longer be able to rely on the American Rescue Plan dollars as a revenues source to offset rising expenses.
IMPROVED HOUSING FOR HOBOKEN
After a few years of planning, the Hoboken Housing Authority established a non-profit called Housing For Hoboken to revitalize Hoboken Housing Authority properties through renovations and new construction.  The heart of this project is to improve the quality of life for HHA residents by providing healthy and safe living conditions while ensuring that no existing residents will be displaced in the process.  I am proud to have been intimately involved in this process to date.  So far in 2021 there have been two public meetings with more to come in 2022 that I hope you can join.
SW HOBOKEN TRAFFIC PATTERN CHANGES
In 2016 the city conducted a traffic study to implement changes in the congested corner of SW Hoboken that included additional traffic signals, allowing vehicles to drive north on Madison and making Jackson Street two lanes.  This past summer we implemented more changes on a pilot basis.  Some residents have reached out and we tried our best to address those concerns and will continue to monitor traffic flow.
Ultimately, the biggest game changer to improve traffic flow is to work with NJ Transit and advocate for funding from the Federal Infrastructure Plan to elevate the Light Rail track.
This plan is part of the NJ Transit Capital Improvement Plan (pgs.19-20)
and when completed would eventually mean vehicles will no longer have to wait for HBLR trains to cross Paterson Plank Road.  I hope you will join me in advocating for this important project for SW Hoboken in the future.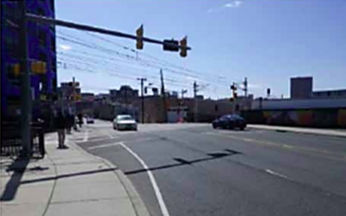 A NEW FUTURE FOR CHAMBORD PLACE
Just before the tragic fire, after a number of public meetings and City Council subcommittee meetings, a redevelopment plan was adopted by the City Council and a development agreement approved for the Chambord Place property.  The new project will make a $900,000+ contribution to the construction of the SW Park expansion and will include a much desired supermarket in SW Hoboken.  Additionally, the project will have 22,000 square feet of retail space, a 12,000 square foot public, interior atrium, 54,000 square feet of office space, 376 parking spaces for both residents and the public to use, and 120 residential units of which 12 will be new affordable housing units.
This project abuts Southwest Park and, when combined with the expansion of the park and The Boundary redevelopment, will completely revitalize the SW corner of Hoboken.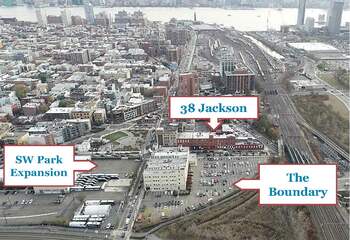 ---
If you are not yet aware, first up in 2022 is the upcoming referendum vote on January 25th concerning the Board of Education's proposal for a new $241 million high school ($330 million including interest) that will result in a 20% school tax increase and be fully funded by taxpayers over the next 30 years.  A referendum vote is when voters vote directly for an issue at the polls.  Voting happens the same way as for an election – you can vote on January 25th at the polling location you always vote in for elections or you can apply to vote by mail.
Like on any other election day, polls will be open on January 25th from 6am to 8pm.
To learn more about the project you can attend one of the three upcoming public meetings hosted by the BOE:
January 6th in person at 7pm at Hoboken High School
January 13th via zoom link TBD
January 17th in person at 7pm at Hoboken High School
And you can also go to the
Hoboken District Schools website
to find more information about the project including a video, a summary presentation, and FAQ's.   This is an important decision for Hoboken so please take the opportunity to learn about the project and vote on or before January 25th.  If the project does not pass, the BOE will revise the proposal and bring it back to voters next year.
---
Wednesday is the first meeting of the City Council for 2022 which includes the reorganization and election of new City Council leaders.  You can watch or join tonight's City Council meeting which starts at 7 pm via the
city's website
,
Facebook
or
YouTube
.   If you want to speak at the meeting, you can join via
ZOOM
.
It truly is my honor to serve as your 4th Ward Councilman and as City Council President in 2021. Hoboken is the only place I have ever called home and my love and pride for our city runs deep.  Please do not hesitate to reach out with any issues or concerns and I will do my best to address them  –
Councilmanramos4@gmail.con
or
201-401-7947
.
Happy New Year and hope everyone has a great 2022!!!