photo credit:  PATCH.com
Hoboken Council President Ruben Ramos issued the following newsletter this morning, updating residents of what's on tap this week and beyond: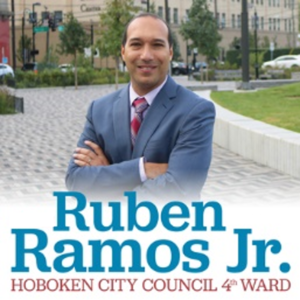 Dear neighbor,
A few updates to share with all of you.
Traffic Flow Improvements
At this
Wednesday's Council Meeting
we will be discussing a contract for Brightview Engineering to design and engineer traffic flow improvements between Henderson and Jackson Street. We all know at times exiting and entering Hoboken can be a daunting task. We hope these potential improvements that Brightview suggests will help alleviate some of the current issues we are experiencing.
SW Park Expansion
Our negotiations with Academy for Block 10 to expand SW Park are ongoing. Proposals and counter proposals have been made by both sides. We were hoping to have this issue resolved already but the conversations have been productive and we are hoping to come to a resolution in the near future.
Jersey City (Jersey Avenue Redevelopment Plan)
Jersey City is gathering information for their Jersey Avenue Redevelopment Plan. There is a second meeting this Wednesday night at 630 pm.  Please see information below for the details
to join
and how to share your thoughts on their plan.
This plan will have a direct impact on not only SW Hoboken, but all of Hoboken. I have been in contact with Mayor Fulop and the Jersey City Planning Department so we can better coordinate our efforts along our borders, specifically on how we can mitigate any traffic impacts.
Housing for Hoboken
In the winter of 2020 the Hoboken Housing Authority created a non-profit called Housing for Hoboken. The goal of the non-profit is to help the HHA plan, finance and reinvigorate all Hoboken Housing Authority properties. The Hoboken Housing Authority recently hired a planner and the hope is they will have plan that will shape HHA's future by this summer. Many if not all the HHA structures are outdated and even more importantly, unhealthy for our residents. We will create new housing without displacing any HHA residents.
PSE&G Site
Public Meeting will be held on March 10, 2021 at 6:30 to discuss the future of PSE&G site located at 2nd & Harrison. Meeting was originally scheduled for February 24th but the administration requested more time to prepare for meeting. There have been absolutely no decisions made as to what the future of this site holds. This is a blank canvas with the ultimate goal being to revitalize the area and have a positive impact on the neighborhood.
---
Also on the agenda at Wednesday's City Council meeting is the 2nd reading of the North End Redevelopment Plan and an update from the administration on their recent snow removal efforts.  You can watch via the
city's website
,
Facebook
or
YouTube
.   If you want to speak at the meeting, you can join via
Zoom
.