Here is the latest newsletter from Hoboken's 2nd Ward Councilwoman Tiffanie Fisher.  She details her thoughts on the Union Dry Dock proposed lease agreement, as well as other topics: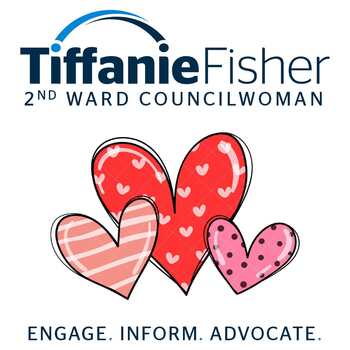 February 14th, 2023
Dear friends and neighbors,
For those who celebrate, Happy Valentine's Day.  I myself had a delicious Valentine's Eve dinner at Dino's with my father who is in town. They never disappoint.
I still have a long list of things I need to update you on, but I wanted to get this out given these few are time sensitive.  I am starting with three lighter updates.  I then provide thoughts, in a level of detail that you would expect from me, on what is being proposed for Union Dry Dock.  As a reminder, tomorrow (Wednesday) night's 7PM City Council meeting will include a 2nd vote on the lease being proposed by Mayor Bhalla for NYWW.  Also on the agenda is a presentation on the re-design of Sinatra Drive and a resolution awarding a $1.1M contract for the planning of the open space at UDD.  These are all actually linked.  You can find meeting info here:
HELP SEND HOBOKEN'S
HARVARD MODEL CONGRESS TEAM TO SPAIN!
If you are like me and believe all kids should have a chance to visit and even live in a foreign country, then here is your chance to help make this dream come true for some Hoboken students.  Hoboken's Harvard Model Congress delegates are hosting a spaghetti dinner fundraiser to raise money to attend the 2023 Debate Competition in Madrid, Spain.
When:  Wednesday, February 15th
Where: Hoboken High School Cafeteria – 800 Clinton St.
Cost:    Tickets at door – $10 / adults, $5 / kids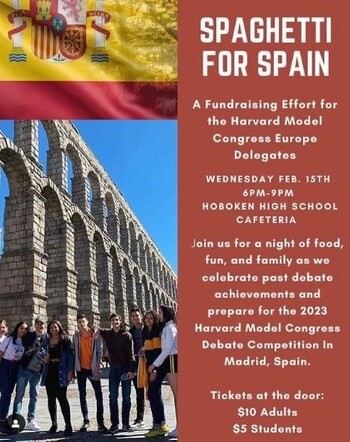 PUBLIC KINDERGARDEN INFO SESSIONS
The Hoboken Public School District is hosting two information sessions to learn about their kindergarden program.  Tomorrow's (Wednesday) is virtual and the one next week is in person.  Details below: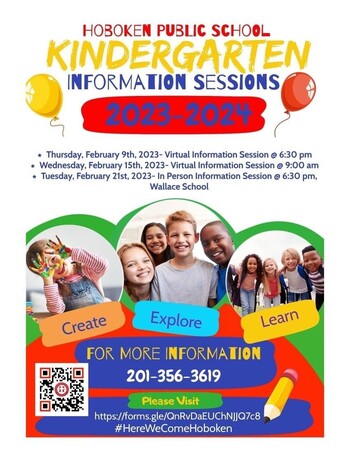 RANK THE RESTAURANTS
LEARN ABOUT RANKED CHOICE VOTING
Remember I told you about the Rank the Restaurants event in Jersey City a couple of months ago?  Well, we brought it to Hoboken!  Meet and taste food from some of our restaurant "candidates", vote and rank all six, and watch how Ranked Choice Voting selects the winner!  With the upcoming City Council ward elections this year, we thought it would be fun to make this a ward vs. ward election with restaurants selected from each ward!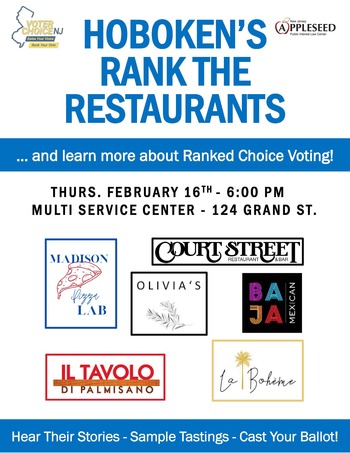 Date:        Thursday February 16th
Time:       Starts at 6pm and will probably go until 730pm
Where:     Multi Service Center, 124 Grand St.
There will also be a drawing to win a gift certificate from each of these restaurants!  The event is being hosted by
Voter Choice NJ
and
NJ Appleseed
and you need to
register HERE
(we already have a huge crowd!).  The event is free but will be accepting donations that night of any amount to go towards having these fun, educational and pro-democracy events across the state to help raise awareness about and advocate for Ranked Choice Voting.
---
UNION DRY DOCK
This has been a struggle for me to write about which is why I have taken this long.  Before I address the proposed lease terms, I think we all need to be reminded of the following:
Mayor Bhalla inherited this terrible situation from our prior mayor who failed to act when she learned UDD was on the market.
It is Mayor Bhalla's political capital with Governor Murphy that got us this far, and all of us working together in lockstep with the mayor supporting his efforts.
Think about it for a minute:  two private companies legally sell/buy a piece of property with the new buyer – NYWW – being a provider of critical, water borne transportation for our region and strategically important to NJ Transit.  Mayor Bhalla was able to get NJ Transit to stand down in an Eminent Domain duel (NJ Transit's authority trumps Hoboken's) and allow us to be in a position where we get to actually have this piece of property to complete our waterfront, a process and fight that started 30 years ago.  Credit given where credit is due.
So with this as an important backdrop, here are my thoughts and hopes regarding Mayor Bhalla's proposed lease terms with NYWW that is now before us…
I ABSTAINED INITIALLY BECAUSE OF LACK OF TRANSPARENCY
You may not be aware, but I abstained on the initial vote for the NYWW lease at our last City Council meeting because of the lack of transparency by the administration and any effort on their behalf to inform the public on the proposed terms ahead of the first vote.
The lease wasn't shared with the City Council until minutes before the City Council meeting
The lease wasn't shared with the public until after the City Council voted and
Although I have requested multiple times, the administration has continued to refuse to have a public meeting on what is one of the biggest issues for not just surrounding residents but for others throughout our city – protecting our waterfront.
Since that vote and over the past two weeks, I have spoken with and heard from several members of the public, the administration and the city's attorney who is negotiating this lease.  With few exceptions, almost all of the public feedback I have received and seen are critical of the proposed lease terms that Mayor Bhalla is saying are "the best he can negotiate" .  Why?  Because the terms seem like a significant departure from what we have all fought for, and what he has represented to us over these five years.
$11.5M original purchase price …
In the summer of 2021 the announced "settlement" price became $13.5M plus a new $5M to go to NYWW towards the cost of building the new Weehawken Terminal and then requiring an 18 month lease to NYWW for 10 boats to be stored …
Now, $13.5 M still to purchase, plus the extra $5M to NYWW for them not to challenge our Eminent Domain judgement and with a longer, more intense lease – potentially 5 years for 20 boats with maintenance and on site refueling added.
What Mayor Bhalla also seems to now be admitting, that we probably knew all along, is that if Hoboken does not help facilitate NYWW's building of a new terminal by providing a temporary location for a portion of its fleet, we run the greater risk of losing the property altogether.
WHAT DOES THE LEASE ACTUALLY SAY?
There has been a lot of back and forth on this.  You can find the lease
HERE
and below I have provided a summary of the main points.  I also included some of the "Devil is in the Details" – both positive and negative ones – found (or missing) in the lease (
DD
for short):
Contingency:  DD1à: The lease is contingent on a signed settlement agreement with NYWW.  So the lease will not be operable unless this underlying settlement is agreed and signed.  We have not been shown any draft of this settlement agreement but my understanding is that it includes, among other things:
NYWW's agreement not to challenge the Eminent Domain judgement made in favor of Hoboken (whether price or validity).  DD2à The hammer and the entire reason for this lease.
Hoboken's payment to NYWW of the additional $5M over and above the land purchase price of $13.5M for a total of $18.5M.  DD3à: It has not yet been determined when Hoboken will pay the extra $5M to NYWW.
Term:
Up to 5 years from Commencement Date including a 3-year initial term, allowed to be extended for 2 more years if more time is needed.
End of lease or event of default:  If NYWW doesn't leave, the City has a right to charge $25k/month in rent and file an eviction notice.
Commencement Date:  Although the "effective date of the lease" is when it is signed by both parties, the Term of the lease – so when the lease provisions apply – "commences" once the following two conditions have been satisfied:
The Settlement Agreement mentioned above is signed.
All permits have been secured for the Hoboken site including Hoboken and County Planning boards, Army Corps of Engineers, NJDEP, Soil Conservation, and Hoboken Building Department.  DD4 à This begs the questions how long could this take and when does the 5 yr clock actually start? 
NYWW can occupy UDD even if no work ever begins or continues on the new terminal site in Weehawken. In fact, the Lease says specifically that NYWW can move 20 boats to the site promptly after lease commences.  DD5à There is nothing tying the Commencement date to NYWW getting Weehawken permits for their new terminal which to me raises the concern NYWW are intentionally looking to occupy both sites.
Rent:  During the initial 3 yr term, NYWW will pay an amount equal to what they paid in property taxes.  The property was previously and routinely reassessed downward under UDD ownership to about $3M.  During the extended 2 year term, NYWW will pay double the initial amount.
Division of UDD site:  The UDD Site will effectively be divided into three parts.  See below – but more easily in the attached PDF.  DD6 à IMHO a big positive is that Hoboken will get to use a major portion of the upland part of the site as soon as the lease is effective for the Sinatra Drive improvements and a portion for the area adjacent to the Skate Park (this is only considered a DD because the lease with this site plan exhibit was never shared with the public).
Leasehold: NYWW's operations – 5.6 acres (including in the water, adjacent upland and three piers)
Landlord (Hoboken): 25' wide stretch along Sinatra Drive to be used for Sinatra drive walkway and bike lane – 0.4 acres
Landlord w/shared access easement: Area in between which includes access driveways (0.4 acres) and open space (~ 1 acre by my estimate)
The current iron fence along Sinatra and the building closest to Sinatra will be removed as part of the initial phase.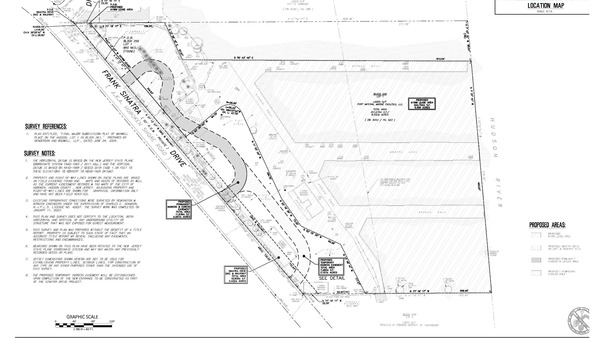 Permitted Uses On Site:
Moving, starting and docking 20 ferries
Ferry maintenance including removal of bathroom waste
Refueling only when Weehawken refeuling operations are "not available for use" DD8 à This is not specifically tied to the construction of Weehawken's new facility .  If necessary, refueling can only be via tanker trucks (no onsite storage) – refueling by boat allowed under emergencies only.  .
NYWW Allowed Improvements:
Utility lines to the site
Ramps and gangways and related construction
Temporary bldg. has been mentioned, but I haven't seen specific reference in the lease.  The current zoning allows for a 2 story building up to 35 feet.
Quality of Life / Safety Provisions
Diesel fuel / Ecological disruption:  DD9 à Nothing requires they only store electric ferries or stops them from using diesel engines onsite.  They are just responsible for any hazardous material clean up required.
Water safety:  The lease requires NYWW to follow all laws concerning boating and in particular to ensure safe practices around the neighboring recreational uses.
Noise:  Allowed to make operational noise (like motors and horns) 24/7 – DD10à we do not yet know how often they will sound horns daily or what the flow of boats will be like.  Will the neighboring residents have to hear 20 boats back up and sound their horns at 530am daily?  Construction (and related noise) limited to 8am to 6pm M-F and exterior maintenance limited to 6am to 10pm 24/7.
NEXT STEPS
I am not sure what will happen Wednesday night when the City Council votes on 2nd reading.  Please consider attending the meeting to make your voice heard.  It starts at 7pm and public speakers will be at the front of the meeting.
My suggested amendments to the lease and settlement agreement that I have already shared with our city attorney who is negotiating both:
THE MOST IMPORTANT –> Make NYWW's ability to occupy and move ferry's to the UDD site conditioned on their achieving Weehawken permits for their new terminal.  This keeps NYWW on track, minimizes the amount of time they will occupy the UDD site (reducing risk of going out farther than 3 years) and mitigates the concerns that NYWW will stay because Weehawken will not give its approval.
Make the remaining $5M payment tied to when they vacate the UDD site (I initial said when they get their Weehawken permits, but our attorney suggested tying it to when they leave)
Make the term of the lease tied to the signing date so the 3/5 year clock starts immediately, not a year from now.
Change the refueling condition tying it only to when the Weehawken site is disrupted due to the construction of the new terminal.
Require that the 20 boats stored will include all of NYWW's electric vehicles to reduce the number of diesel powered ones at this location.
Minimize the amount of horn noise allowed early in the morning or late at night;
Require a regular meeting between the Hoboken Cove Boathouse and NYWW to addess and stay on top of safety concerns.
Specifically state that NYWW is not allowed to use the north side of the northernmost pier for boat storage, maintenance, or refueling, under any circumstances (I believe this is expected, but the lease is silent).
In addition to asking for the administration to host a public meeting, I have also asked that we set up a meeting between NYWW and the Hoboken Cove Boathouse ASAP to address the safety concerns about this new conflict between paddlers and ferries.  Additionally, Councilwoman Giattino has proposed tightening our zoning for the site to make it difficult for NYWW to stay beyond the term of their lease including eliminating permanent fueling stations as a permitted use on the site.
Mayor Bhalla has indicated that there is only a remote chance that NJ Transit will step in and take the property from us in five years.  Where I disagree is that a fully built and occupied property by NYWW will make the argument of their staying in any future Eminent Domain dispute much easier to accept.  This is why I believe it to be critical that we tie the start date of this lease with the date NYWW achieves all their permits in Weehawken.   
From the very beginning, even though we may have our differences, I have worked in lockstep with Mayor Bhalla – and all of you – to support his efforts fighting for UDD.  But now, at the eleventh hour, transparency and public input seemed to have been left behind.  We have shown that when we work together, we get a better outcome and I hope we still have a chance here.  Although we cannot predict the future, we can continue to fight for the best outcome and to keep fighting every step of the way into the future.  You have my word I will keep fighting.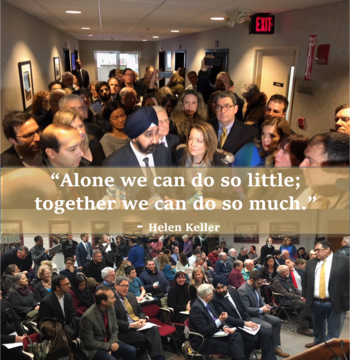 As always, please share this with everyone you know who may be interested and reach out any time on any issue important to you:
201-208-1764
or
CouncilwomanFisher2@gmail.com
.
Tiffanie Fisher
Hoboken City Council, 2nd Ward
Engage. Inform. Advocate.
"More Voices are Better"