Hoboken Councilwoman Tiffanie Fisher is encouraging city teenagers to consider applying for the new, Youth Advisory Commission.  The deadline is December 1.  Councilwoman Fisher explains the purpose and function of the Commission in her latest newsletter, which you can read below:
HOBOKEN'S NEW YOUTH ADVISORY COMMISSION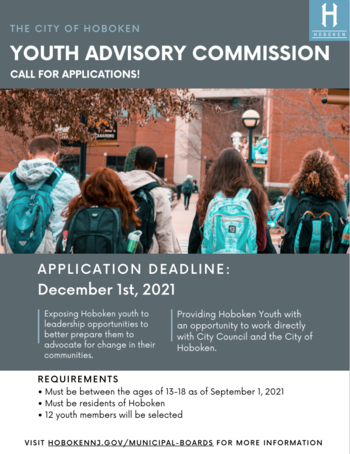 What it is:  A "council" of twelve teens from Hoboken who will learn how to advocate for positive change in the community and establish a working relationship between youth and City government.  It will also be a way for the City Council to hear ideas and advocacy from this commission who represent a growing and important voice in our community.
Eligibility:  Hoboken residency required.  Must be between 13-18 as of September 1, 2021.
How to apply:  Send a letter to the City Clerk at

cityclerk@hobokennj.gov

describing why you are interested.  I would also encourage you to reach out to council members and the mayor directly.
Deadline to apply:  December 1st, 2021
****Selection Process:  Each City Council member will each appoint one youth member (9 in total), and the mayor will appoint three.  The spirit of this is that each ward City Council representative will select a youth member from their ward.  The at large City Council representatives and the mayor will select from city wide applicants.  I am told by the administration that once all applications are received, I will be sent only 2nd ward candidates to review and appoint.
For the 2nd Ward candidate I hope to appoint, I will be specifically looking to appoint a rising senior (or who is currently in 11th grade) from the 2nd Ward who has a strong interest in public service.  This is a commission that will be reappointed annually so is a great opportunity to be an application booster for teens working towards their next step in life whether higher education or a full-time job.  If you are reading this and you have a teen who is not a rising senior, but you think is a great candidate, have them send their application in anyway.  I may not be the one that selects them, but maybe the mayor or one of the 3 at large councilmembers will for one of their five spots.
Please note there is mostly downside for me in this!  I am super excited about having this council of youth, but that means I will potentially have several disappointed parents and teens as I can only select one.  That is why I wanted to be as transparent as possible in what I will be looking for.  Just like being on City Council isn't for everyone, nor is being on this youth advisory council.  But it is perfect for some!  Looking forward to hearing from all interested candidates!
HUDSON TV CONTEST READ BELOW
========================================================================
EARN $$$ WITH YOUR PHOTOS OR VIDEOS
Once a month, Starting Jan 1st, 2022, We will be giving away up to $300.00 dollars for photos or videos of breaking news that get the most engagement on our Social Media pages.
To Participate, Please send us an email to info@hudsontv.com with your name, phone number, and photos or videos of breaking news with a brief description of the location and time taken.
Please note the following:
You must own the content.
Photos or Videos published on social media pages or any other news outlets, DO NOT qualify.
Good luck to All.