Hoboken's 2nd Ward Councilwoman Tiffanie Fisher expresses her disappointment over Wednesday night's, 5-4 Council passage of the proposed Story Dispensary, to be located at 14th and Hudson Streets, in her latest newsletter to constituents.
The newsletter, in its entirety, may be read below: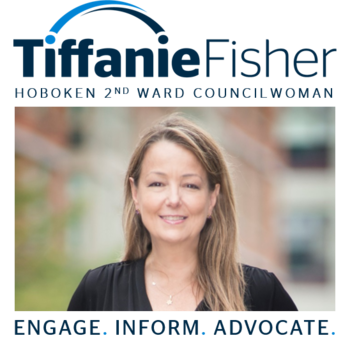 December 23, 2022
Dear friends and neighbors,
As you probably have already seen, on Wednesday night five of nine City Council members voted in favor of the proposed Story Dispensary to be located at 14th and Hudson in the former Hudson Tavern.  Enough to pass.  I want to thank my City Council colleagues Ruben Ramos, Jen Giattino and Mike DeFusco who joined me in voting 'no' remaining consistent with the Common Sense Cannabis regulations we passed in April with a City Council vote of 8-1.
What Wednesday night's affirmative vote means is that the proposed Story Dispensary can move forward with their application with the New Jersey Cannabis Review Commission.  We have already reached out to the CRC and provided information about the political influence behind this dispensary and the charade of its proposed principals – not the 26 year old female Latina Hoboken resident with no experience put forth to get priority approval, but Jason Vedadi, a Texas resident and one of the most prolific owners and operators in the cannabis space, in the United States who would not qualify for priority approval.  Additionally, the Condo Association of residents who live above the proposed dispensary is continuing with their legal battle.
This City Council vote was as much about the impact a high volume dispensary will have on traffic, congestion, pedestrian safety and parking, as it was about political influence, corruption and enriching elected officials and their friends.
  We learned recently that not only has Jersey City Mayor Fulop (and gubernatorial candidate) been behind this dispensary, but that our own Assemblyman Raj Mukherji (and state senate candidate) who we elected to represent us is as well and helped put together the sham ownership with his friend and client
Jason Vedadi
:
My City Council colleagues Emily Jabbour, Jim Doyle, Joe Quintero and Phil Cohen all too voted for the Common Sense Cannabis regulations in April, but changed their vote Wednesday night.  They all gave their reasons but IMHO, none of the explanations actually addressed, recognized or considered the specific concerns raised by our neighbors about pedestrian safety and congestion and the fact that this applicant is grounded in political influence and corruption.  They spoke around it.  Council President Russo did not give the courtesy to the public and gave no comments.
CM Quintero thanked my neighbors for engaging in a debate
, said his discretion was limited (which was the opposite that we were advised by Counsel) and hoped the neighbors would be equally engaged on other issues. 
CW Jabbour said she regrets she wasn't a better communicator on this issue in the past
and felt that the silent voices that supported this dispensary were much greater in number than those who opposed (although none have come to any meetings). 
CM Doyle said he felt that there were only really about 20 people who opposed this location
(apparently he didn't see
the petition with 2,038 signatures
) and added he had always supported a dispensary in this location. 
And CM Cohen mansplained about the regulations
and threw in a libelous political shot at me.  You can listen to all of these on FB or YouTube starting at around 1:16:00.
For three years I supported our ordinance that provided for three (3) dispensaries in three disparate industrial and commercial areas of Hoboken – one, blocks from the PATH station, and one each in the redevelopment areas of NW Hoboken and SW Hoboken.  There was never any public pushback on these limitations but maybe because the administration only held one public meeting, on medical dispensaries, and only after I demanded more transparency before voting on something of this importance.
But in August 2021, Councilman Russo told us his ordinance was just perfunctory language required to opt in to the new state Cannabis laws.  But in that ordinance, he made two quiet changes – he changed 3 to 35 dispensaries by removing the cap AND he added two new zones – C3 & C4.  I didn't see these, and unless my colleagues and Mayor Bhalla wanted 35 dispensaries across Hoboken near schools and parks, I don't think they saw these changes either.   We were misled.  And I will forever be sorry for trusting without verifying.
From the onset, this was about being intentionally misleading the public.  And it still.  Along with enriching politicians and their friends which is the antithesis of the social equity, restorative justice and medicinal value we all support and that is the basis of our state laws.
The statement I gave in opposition is transcribed below or you can watch it
HERE
.  It was very emotional for me.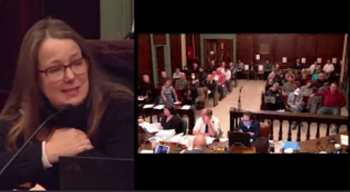 Thank you to all my neighbors who came out Wednesday night, and all who have fought this battle since February.  To you:  I am forever sorry that this has happened.  And I will continue to fight alongside you on this until its end.
As always, please share this with everyone you know who may be interested and reach out any time on any issue important to you:
201-208-1764
or
CouncilwomanFisher2@gmail.com
.
Tiffanie Fisher
Hoboken City Council, 2nd Ward
Engage. Inform. Advocate.
"More Voices are Better"
My statement at the 12/21/22 City Council meeting, transcribed:
So first I just want to everyone who came out tonight.  Sorry, I am very emotional.
The hundred ish who met with council members and the mayor this past Monday.  Twenty in the morning and about 80 who came out Monday night.  The hundreds, maybe it was 20 who was constant in all of the planning board meetings but it was 100's who attended the various planning board meetings and the CRB hearing over the past several months. And the 2000 who signed the petition opposing this.  We've heard a lot tonight that this may not be representative of the entire city, but it is 100% representative of the entire neighborhood.
In August of 2021, we made a mistake like Councilman Ramos said and Councilwoman Giattino said.  But you have to remember, that not only did we all vote on an ordinance that night without knowing, notwithstanding what Councilman Doyle said,  that would have allowed 35 dispensaries in Hoboken.  35 dispensaries.  And maybe Councilman Doyle was OK with that.  Because that was in that ordinance that night as well that I didn't read.  Because similar to what Councilwoman Giattino said, it was summer, we relied on the representations of our fellow Councilmember, that it was just opt in language, and there weren't material changes.  But there were two.  The same ordinance allowed dispensaries in the location being discussed tonight.  And that is 100% on me as I have said before.
Thankfully, and I am grateful to all of my colleagues, most of my colleagues except for one, and to Mayor Bhalla who joined in rectifying this terrible mistake and both of these provisions this past April.  And I'm hopeful tonight, notwithstanding what they said, that they will actually consider before voting  they will vote no and will continue to support those changes that they made in April.  And they were changes that were made because of the public outcry that was citywide.
We all advocate for issues that are important to our constituents.  And they range from a simple email or phone calls to organizing as large groups.  The more important the issue, the more voices.  And as the 2nd ward council member I can tell you that there have been so many voices on this, all but a small few are opposed in the 2nd Ward, the 5th Ward, this neighborhood.  And honestly, the ones I hear the most from are 2nd ward and 5th ward and a little bit city wide because that is my reach.  But its not 50/50.  It was never 50/50.  Even in the beginning.  It was 95/5 this entire time from the very beginning.  Everyone recognized this was not the location for this dispensary.
Originally the opposition really came from a pure place.  It was QOL issues relating to what we will know will be a very busy dispensary notwithstanding what the applicant said.  Many of which are just expansions of issues that already exist.  Scarce parking, traffic and congestion – noise and chaos from the uptown bars.   Most importantly pedestrian safety.  The biggest concern is all the additional traffic coming to the area, people unfamiliar with our streets, trying to navigate through them, and an increased number of impaired drivers.  This is antithetical to vision zero.  Antithetical.  It is the opposite of vision zero.
These are issues I deal with daily as the 2nd ward representative.  But what has happened since the initial response about all the quality of life issues of all this traffic and additional busy-ness, has been realizing that this process has really just been about favoring special interests over the interests of my Hoboken neighbors.  That's all this is.  It's been devastating to so many but especially to my neighbors who live above the proposed dispensary.  There are 7 condos, 7 residents live directly above it and their rights were taken away from them.  This is the equivalent of a government taking.  Their equity value in their homes are at risk, and their quality of life and were not given an opportunity and were not given consideration not at all.  And by voting yes tonight, we are saying that that is ok, and it is not ok.  It is absolutely not ok.  Eminent domain in our city is controversial enough.  But in Eminent domain there is consideration is paid for taking value away from someone.  We are effectively doing a government taking tonight if we vote yes.
How any of us with a conscience can force this on these neighbors is mind boggling.
As one of my neighbors said tonight this isn't about cannabis, Accessing it, social equity or restorative justice.  It's about choosing the will of the public over political influence and enriching elected officials and their friends.  It's that simple.  It's nothing more.
To my colleagues.
If you are struggling to oppose because you are coming from a place of not wanting to oppose social equity, restorative justice, medical cannabis and all the other aspects of legalized marijuana – know that there is no trace of it in this application for a dispensary.  This dispensary is the antithesis of that and completely contrary to the spirit of our state law – elected officials Mayor Fulop and our own Assemblyman – our own Assemblyman who represents us.  He represents us and is working against the interest of Hoboken residents.  They put this dispensary together to enrich themselves and their friends and it will be operated not by a 26 year old Hoboken resident who is a Latina.  It's going to actually be operated by one of the most prolific cannabis industry executives out there.  His name is Jason Vedadi and his company Story Companies LLC and he is only in it to make money.  He is one of the largest owners in the united states, he is not a NJ resident at all.  There is no social equity.  No restorative justiece at all.  No nothing.  This is about capitalists and enriching friends, clients and elected officials.
If you are coming from a place of wanting to have easy access to cannabis – which I think everyone in this room wants to have access to it, right?  We all want to.  I haven't in a long time, but I will.  And I will inhale.  (it may be tonight).   know that you can oppose this and still have easy access.  We have approved so many other dispensaries and as importantly probably the biggest business we are going to see… what does everyone see on the streets and corners everyday?  We see Ubers.  We see Ubereas.  We see grubhub.  We see amazon.  The delivery business in Hoboken.  Hoboken residents don't like to leave their home.  They love to have delivery.  We are going to have cannabis delivered to every home in Hoboken, right?  That is what is going to be allowed.  We don't have to and by not approving this we are not depriving the residents of Hoboken cannabis.
We have discretion tonight and we can do a lot of different things.  We can vote no and this process stops.  We can all abstain.  We can just pull this and wait to see what happens with the [condo] litigation.  We can wait a little bit longer.  We can wait to have this vote at a time when residents are not away for the holidays.  And to correct one of my colleagues, we did not follow the same protocol that we followed with others.  We delayed this vote. The Blue Violets vote happened immediate following the vote at the planning board.  This is now the 4th meeting after it was approved.  It could have been on the agenda 2 or 3 meetings before when we could have had a greater chance of having more people.  I got several emails today from people that are frustrated because they are away for the holiday and weren't able to come.  And it's a shame something this important is on the agenda tonight.
And we do have discretion.  We were told by our corporation counsel that we actually do have discretion.  We have the ability to make the choice that is right for Hoboken.  We actually already made that choice.  8 of us voted and the mayor quickly signed an ordinance that said this location doesn't work in Hoboken.  And we did that in april.  Weve made that choice so any vote tonight which isn't consistent with that vote in April is … you have to question yourself.  If you have already voted against that location why would you not vote against that location again.  There has to be another reason.
So we can vote no and vote in favor of the residents we serve.  Or we can vote yes and vote against the will of the people.  I am going to look right at Joe, Emily and Jim – many of these residents voted for you. Its not about what is in the best interest for all of Hoboken.  That is not always the case.  But what is always the case is voting the best interest of the will of the people.
And finally – I want to apologize to all of my neighbors.  I shouldn't have trusted without verifying on such an important issue.  I always… you know… you see my emails…I try to be as detailed as possible.  I worked really hard on this issue for three years.  Three years of not one public meeting that was accessible to the public.  We had one in the beginning during the discussion of medical marijuana it was at the Jubilee Center on a cold rainy night at a place in the city that most people don't even know.  And there was 100 people there and and they filled the room with medical marijuana lobbysists and industry people.  The public didn't have a chance on this.
And so I just want to apologize.  And I am just going to continue working with everyone to try and advocate and I just really hope that my colleagues do the right thing for you tonight.  I really do.
Thank you.