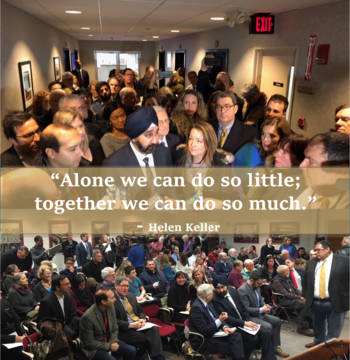 Dear friends and neighbors,
Today is a historic day for Hoboken!  A deal was reached for the last piece of our waterfront that was at risk of being privately developed – what we commonly refer to as Union Dry Dock.  Mayor Bhalla called me this morning with the great news and one of the many common themes in our discussion was the appreciation of the advocacy from everyone in our community.  I can tell you that all of your voices made the difference.
Click 
HERE
 for the full text of the press release that the city just put out.
Effectively the City will pay $18.5M for the site, or roughly $6M per acre and this money will be used as part of the funds needed to build NYWW's new operations center in Weehawken.  The guts of this agreement is a coordinated process across two sites over the next few years:
NYWW has to prepare for and build their new operations center and
the City of Hoboken has to plan and prepare to build a park / recreation area at our newly acquired site.
While these activities are occurring, NYWW will need to store boats at the UDD site for a short period that I understand is currently expected to be ~18-24 months.  I know this begs a lot of questions, but please know that we are all focused on minimizing the disruption to the neighbors, ecology and activities in that area.  Like so many other activities that happen in our community, this hopefully will be seen as a temporary sacrifice to make for what is a long term, amazing gain for our entire community.
This said, I spoke with Mayor Bhalla and Environmental Services Director Gonzalez about ways to minimize the disruption to activities in the Hoboken Cove during this time, including having the boats be docked further south towards the skate park.  I can tell you this issue is high on their list of priorities.  The MOU, which will require City Council approval, will provide all these terms and details so more to come on this issue.
I also raised the idea of building a "Pop Up Waterfront Walkway" ( to be fair, this name was given to it by Director Gonzalez) near the Monarch site ASAP when the City gains access to the site in September.  Not only for the purpose of addressing the biggest immediate need – which is better access on our waterfront in this area – but also potentially an added benefit may be to consider connecting this walkway and providing temporary access to the beach adjacent to the Monarch site as an additional alternative to the Maxwell Beach for kayaking and paddleboard activities.
So much exciting ideas and possibilities now!  And so many details to hammer out.
I can't stress enough your involvement in this.  Over the last three decades, many of you have advocated to protect and maintain Hoboken's waterfront for the enjoyment of our community and visitors.  I got involved in this advocacy in 2011 when the proposed Monarch project came to light.  I met Ron Hine of Fund for a Better Waterfront then and never looked back in terms of continued advocacy.  When I ran for office the first time in 2015 I met so many people who had been fighting since before Shipyard was built – incredible stories I had never heard from so many who took part.  The original plan for Shipyard was for a Target sized grocery store on that site and the light rail to run along the waterfront there with no stops in Hoboken.  Imagine that…
But our neighbors, predecessors to many of us, said that wasn't acceptable.  The Hoboken waterfront needs to be for Hoboken's residents and visitors.  The premise was, and still is, that simple.

Although I know we are not 100% aligned on keeping our waterfront free from private development, I think we are in the upper 90's which I don't think could be said for any other issue our community faces.  So all I want to really say, is thank you.  To all of you.  We did this together.
Send along any questions you have.  I promise I will continue to advocate on this issue and keep you informed.  As always, please forward to anyone you think may be interested in receiving this.  Feel free to email me at hoboken2nd@gmail.com or call me at 201-208-1674 to discuss what you have read or anything else that is important to you.
TiffanieFisher
Hoboken City Council, 2nd Ward
Engage. Inform. Advocate.
"More Voices are Better"