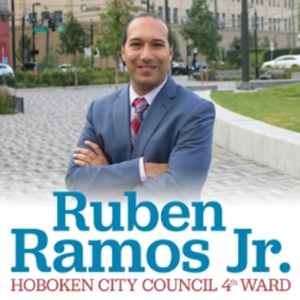 Dear Neighbor,
I hope this email finds you and your loved ones well! I wanted to share a few updates with you as we head into the summer months.
SOUTHWEST PARK EXPANSION
We are very excited to announce that the City of Hoboken has acquired Block 10 from Academy Bus for the expansion of SW Park. This is long overdue and will significantly improve the quality of life of SW Hoboken residents. For the time being the space will be utilized as a "pop up" park that will be opening in the coming weeks. We will be seeking comments from the public as we create a permanent design for the park.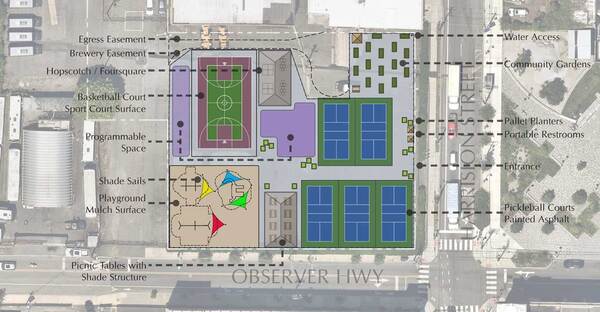 TRAFFIC PATTERN PILOT
In 2016 Hoboken hired Brightview Engineering to conduct a traffic study that would help improve traffic flow in SW Hoboken. Many of the recommendations from the traffic study have been implemented. We continued monitoring the area and worked with Hudson County and Jersey City officials to consider additional changes. The changes can be seen in the photo below and if changes are not effective we can revert back to original pattern. The changes will coincide with the paving of the roads in the area.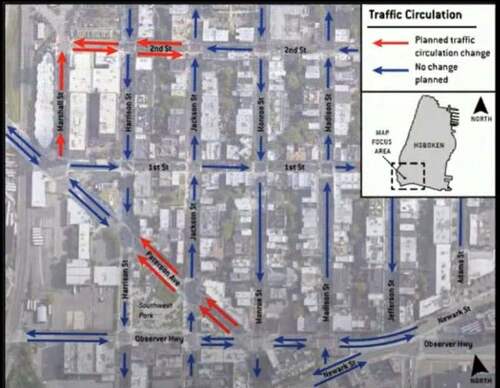 CONCERTS IN SOUTHWEST PARK 2021
Please plan to join for concerts on Monday evenings, all summer long:
June 21 – GENE D. PLUMBER – swinging honkytonk-a-billy
June 28 – JOE TAINO GROUP – a blend of roots Americana, blues, jazz and Caribbean influenced music
July 12 – MELTING POT WITH GEORGE NAHA – Melting Pot is a quartet with deep Hoboken roots. Guitarist George Naha and bassist Tim Tindall frequently played in the '80s at The Beat'n Path with George's R&B horn band, The Other Mule. Drummer Charlie Caldarola teamed up with Tim and George to form The Sons of Rest, and John Korba later joined in on keys and vocals to form the quartet Melting Pot. Members of the band went on to play with some of the giants of the music world, including Aretha Franklin, Hall and Oates, Phoebe Snow, Sam & Dave, Jr. Walker & The All Stars, Wilson Pickett, etc. The band plays a great variety of music, from R&B to Jazz, Reggae, Blues, Rock & Roll, etc. Their groove is infectious, and their musical interplay is well honed after about 40 years of playing together. In short, it's a lot of fun to check them out!
July 19 – LLOYD UNITED – Lloyd United is a Hoboken based ukulele rock band, that is part psychedelic, glam, prog and Celtic, with a distinct sound combining songwriting talent with a pub rocking attitude and artistic vision, resulting in a spectacular live experience.
July 26 – TBA
August 2 – ZYDECO REVELATORS – hot, Louisiana-style Cajun dance music. Zydeco Revelators bring the MARDI GRAS party to you, any time of year!  Groove to the spicy gumbo of Cajun accordion, electric guitar, and smokin' rhythms. Dance all your blues away! ZydecoRevelators.com
August 9 –

BRETT ALTMAN: 6PM – blends pop and folk musical stylings through his intimate songwriting. His songs illuminate the moments of everyday life.
ELEVATOR PITCH: 7PM to 8PM
August 16 – SCHOOL OF ROCK: 6:30PM – 7:30PM
2021 HOBOKEN MUNICIPAL BUDGET AND TAXES
We are once again approaching an adoption of our municipal budget. The Bhalla Administration introduced a budget that had a 0% tax increase and on the surface that is a great thing. We received $26+ million dollars from the federal government relating to COVID which really saved us this year especially after having a 7.5% municipal tax increase last year. I am committed to working with my City Council colleagues and the administration to deliver a meaningful municipal tax decrease this year and I believe that as we further examine the budget there will be room to cut without sacrificing government services.
UPCOMING COMMUNITY MEETINGS
There will be two upcoming community meetings to discuss projects within the Southwest Redevlopment Zone:
The first is for 601-619 Newark Street which will be held on Wednesday, June 23, 2021 at 6:30 PM. Here is the 
Zoom link
 for the meeting and dial in information:
· Phone Number: 929 205 6099
· Webinar ID: 977 7488 9317
· Passcode: 868712
A second meeting for 38 Jackson Street will be June 28
th
 at 6:30 PM.  Here is the 
Zoom Link
 for the meeting and dial in information:
· Phone Number: 929 205 6099
· Webinar ID: 976 8112 1490
· Passcode: 930426
QUALITY OF LIFE
Living in a city a number of quality of life issues tend to pop up such as fireworks and other public nuisances. Please call the Hoboken Police Department at 201-420-2100 if you witness any behavior that has a negative impact on your quality of life. Obviously you can always call me at 201-401-7947 or email me at 
councilmanramos4@gmail.com
  to report any issues and I will work with all parties to properly address.
Stay safe and wishing you all a Happy 4th of July!