In Hoboken 2nd Ward Councilwoman Tiffanie Fisher's latest newsletter, she updates constituents on the Ida survey and the pending meeting between the North Hudson Sewerage Authority and the City Council, which Council Vice President Jen Giattino is working to schedule: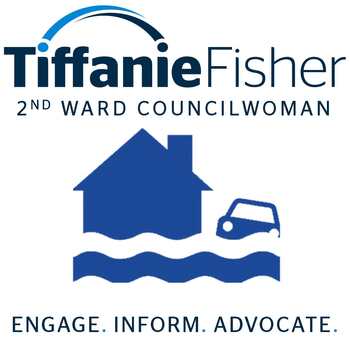 Dear friends and neighbors,
If you did not read my email and respond to the 
short IDA survey
, please take a minute to do so.  Also, I'll touch on more below, but if you know that your neighbors flooded as well, please send this to them to fill out.  Also, for those who are hesitant to include your specific address for any reason, I updated the survey to just ask for what street and block – like "900 Block of Bloomfield, East Side".
Unfortunately, due to a mix up, the NHSA did not present at Wednesday night's meeting but Council Vice President Giattino is working with the NHSA Executive Director, Richard Wolff, to present at a special meeting, targeting the date our of October 13th that the city's Business Administrator offered.  Details to be confirmed and provided later.
We did however have a robust discussion with many neighbors who dialed in to speak during the public portion.  Clearly this is an issue that needs better solutions than we have seen before.  One of the main things that jumped out at me was learning that the NHSA plant actually is only at 60%ish capacity, and that our pipes are where there are capacity constraints.  This is what I always thought btw… and is what we need to understand better.  I call them "pinch points" in our system.
Back to the survey…. So far I have received 148 responses to the survey (and about 10 separate emails and calls), 122 of whom said they flooded.  Of those who responded that they flooded:
46% flood in every heavy rainstorm, and 53% said this is only the first or second time they had experienced flooding before
46% said they had 3 inches or less, and 54% said they had over 3 inches – 29% said over 6 inches!
Although the question probably wasn't worded as good as it could have been, it looks like about 1/3 of those who responded do not have any mitigating instruments like a pump, valve or French drain to combat flooding.  But 2/3 did and the also include water retention and green installations like plants.
A few blocks were revealed where there seemed to be concentrations – >3 on the same block – of flooding.  I am specifically trying to identify these concentrations so if you know your neighbors flooded similarly to you, please try to get them to fill this survey out.
And almost everyone provided great questions.
I am going to provide the results of this survey to the NHSA in conjunction with Council VP Giattino setting up the October 13th public meeting.  I will be changing all specific addresses to blocks and will provide all of your names who wanted to be contacted by the NHSA.

This is by no means meant to be a scientific study… this is meant to collect information that can be helpful to identifying problems and potential solutions.  Also, please know that my email list is heavily weighted to the 2nd ward, but has grown over the past 6 years to include neighbors from across the city.  I am aware that the north east corner of Hoboken historically has flooded much less than areas further west and south west.  But please do share it with anyone you know so we can get as much data as possible.  Original email is below.
As always, please share this with anyone you know who may be interested and reach out any time on any issue important to you: 201-208-1764 or 
CouncilwomanFisher2@gmail.com
.
TiffanieFisher
Hoboken City Council, 2nd Ward
Engage. Inform. Advocate.
"More Voices are Better"