Hoboken Council President Ruben Ramos has announced an agreement has been reached with Academy Bus to purchase a parcel of land in order to expand the Southwest Park.  The announcement, along with other community news, is discussed in the Council President's latest newsletter, which can be read below: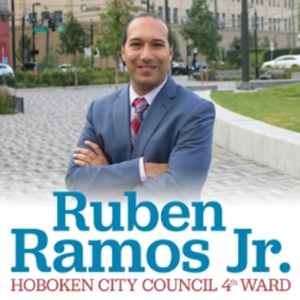 Dear Neighbor,
I hope this e-mail finds you well!!
Southwest Park
In early summer of 2020 we entered into a court ordered mediation with Academy the owner of Block 10. After multiple meetings I am pleased to announce that we have reached an agreement with Academy for purchase of Block 10 for the expansion of Southwest Park. Upon acquisition we will be preparing Block 10 to use as a pop up park for use in summer 2021. City Council will be voting on agreement at our April 7th council meeting.
Southwest Traffic Pattern Proposal
In 2017 the City hired a traffic engineer to study and design new traffic patterns to assist with traffic flow.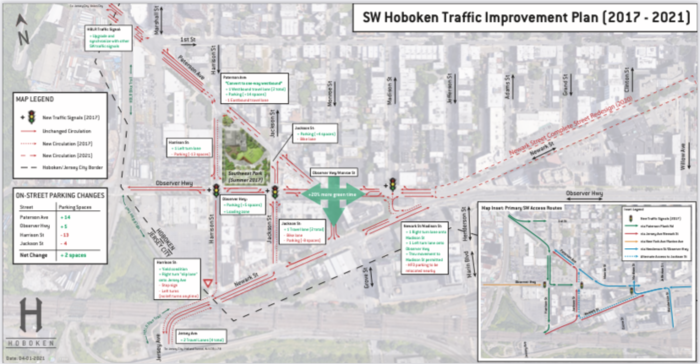 Some, but not all, of the ideas included in the original study and design were adopted. After further discussion over the years with Hudson County and Jersey City they suggested a pilot study to implement new changes to traffic patterns. The focus of this year is converting Paterson Ave to be one-way westbound between Monroe St. and Harrison St. Hudson County has authorized a one-year pilot to evaluate this one-way conversion of Paterson Ave, and they have agreed to cover the cost of construction while Hoboken pays for design engineering costs. On March 3, the City Council authorized Bright View Engineering to create the engineering plans needed to implement the pilot one-way conversion. We are now waiting for the draft plans from BVE. We will also host a public webinar once design is completed.
Southwest Redevelopment
There have been two property owners that have approached the city with proposals for their properties at 61 Jackson Street and 38 Jackson Street.  A public meeting will be held to discuss both proposals and like with any plan, if it does not have public support, it will not move forward to the next phases of the redevelopment process. Hoboken Business Center is also seeking zoning board approval that proposes expansion of commercial development on their property which I believe would help us with our goal to continue to revitalize SW Hoboken.
2nd & Harrison Street Substation
In early March a public meeting was held where Rutgers University students detailed potential options for the site once the city takes ownership. Residents of Hoboken also shared their thoughts and opinions on potential uses for the site as well. We will continue to engage the public as this process continues.  Ultimately we would like this site to be a destination that all Hoboken residents can enjoy.
Lyft/CitiBike Bike Share Program
We're all extremely excited for the return of our bike share program and below are the locations for SW Hoboken:
2nd Street (south side) at Marshall Street 
Mama Johnson Field – 4th St (north side) at Jackson St
Madison Street (west side) at 1st Street
Southwest Park – Jackson Street (west side) between Observer Highway and Paterson Avenue
Multi-Service Center – Grand Street (west side) near 2nd Street
2021 Municipal Budget Introduction and Budget Workshops
At the City Council meeting on Wednesday, the Mayor will be introducing his budget to the City Council.  As you know, the city has struggled financially in the past couple of years to due outsized spending.  This year's budget will benefit significantly from American Rescue Act Revenue to help Hoboken taxpayers.
There will also be scheduled public Budget Workshops to review the various department budgets, tentatively scheduled as follows so please hold the dates:
Wednesday, April 14, 2021:
City Clerk: 6pm
Water Utility: 6:30pm
Admin/Finance: 7pm
Corp Counsel: 7:40pm
Thursday, April 15, 2021:
Development: 6pm
Human Services: 6:45pm
Environmental Services: 7:30pm
Monday, April 19, 2021:
Police: 6:00pm
Fire: 6:45pm
Transportation and Parking: 7:15pm
---
You can watch or join this Wednesday's City Council meeting which starts at 7 pm via the
city's website
,
Facebook
or
YouTube
.   If you want to speak at the meeting, you can join via
Zoom
.
===========================================
Do you have a news-tip or want to share a story with us? Please Fill out the following form. Anonymous tips are also welcome.