WEDNESDAY, APRIL 28 AT 7PM
SOUTHWEST HOBOKEN TRAFFIC RECIRCULATION PLAN MEETING
There have been various changes made in downtown Hoboken over time to ease traffic congestion getting in and out of the city.  It's a difficult problem to solve given the confined space and lack of exit and entry routes.  In addition to the changes which have been made over the past couple of years, there's a new option being considered.
What is planned is to change Paterson Avenue into a one way street.   It's currently a two way street between Monroe and Harrison Streets.  According to Councilwoman Tiffanie Fisher, "the idea is to improve circulation in what is a complicated and congested area of Hoboken.  For those in the north who use the viaduct to access this corner of Hoboken to visit or to leave and head to 1/9, TPK or Holland Tunnel, it will impact you as you come down Paterson Plank Rd. from Jersey City."   Fisher provides a schematic map of the proposed changes.You can   See below –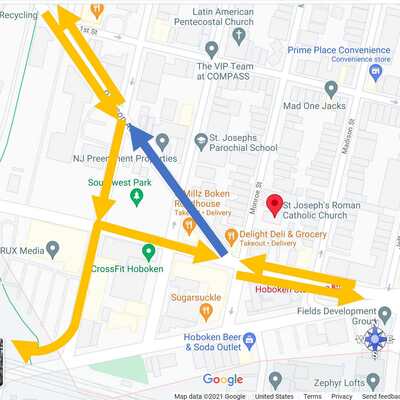 You can join tomorrow's meeting at 7 p.m. to give feedback via: 
Facebook
,
YouTube
or via
Zoom
(click on one of the links to
register
and participate.)
And just a reminder that tonight at 6 p.m. is the Maxwell Park Restoration Meeting.  You can access via: 
Facebook
,
YouTube
or via
Zoom
.