Hoboken's 2nd Ward Councilwoman posted a newsletter this afternoon detailing information concerning a dangerous intersection and what is being done to improve the safety of pedestrians and drivers alike.
The newsletter also reviews Wednesday night's Council session concerning the city's snow removal following the recent storms and complaints received by the city that a poor job was done clearing streets, intersections and crosswalks.
You can read the newsletter below: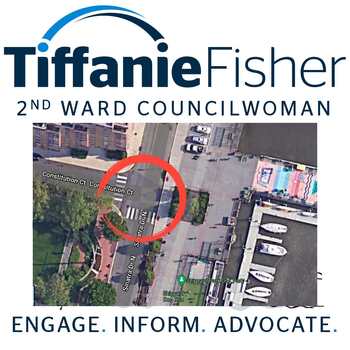 Dear friends and neighbors,
I couldn't wait to share this news!
The County is going to install a speed table at the Pier 13 intersection to calm traffic!!!!!
On my 4th Vision Zero Task Force zoom meeting yesterday, we were discussing how state traffic safety regulations are not geared to work in urban areas with a lot of pedestrians which is frustrating to all of us.  And as an example, I cited how for years we have been trying to get a stop sign at Sinatra Drive North and Constitution Ct. – what I will refer to as the Pier 13 intersection – but that a "warrant analysis" which is required for a stop sign doesn't measure the real risks of that intersection.  A warrant analysis counts volumes and speeds of cars during rush hour times, not volume of both cars and pedestrians during evenings and weekends which is where the greatest concerns are at this location.  Thus – we never got a stop sign there.
But – Jose Sieira, Director of Traffic and Transportation for Hudson County, who is also on our VZ Task Force, jumped in and updated me that after all of our advocacy… and by "our" I mean literally all of you who have reached out to me on this over the years, the County came up with a solution that was within their purview and that will possibly work even better than a stop sign.  Construction should start this April / May and is part of a bigger resurfacing project for Sinatra Drive North in that area.
What is a
Speed Table
you ask?  This is a good illustration to give you an idea.  It can be as wide as a crosswalk, or like what is planned eventually for Garden and 15
th
, it can be the entire intersection.  I am not sure the exact design yet for the Pier 13 Intersection, but will share as soon as I do.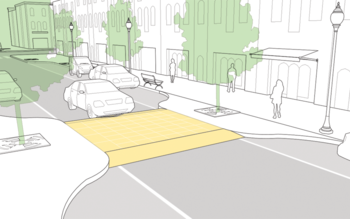 Whether you are a neighbor of or visitor to the area, whether you are walking with your children, riding your bike, exiting from Pier 13 (after a day of drinking), or just driving along North Sinatra Drive in that area…. the conflicts between all users of the road at that intersection has been a constant pain point.  But you pushed.  And so I pushed.   And the County, including Commissioner Romano, County Engineer Malavasi and Director Sieira all listened.  I will share the exact design once I get it, but I am so very excited about this soon to be installed critical safety measure in the 2nd Ward.
SNOW PLOWING BRIEFING – RECAP
Fair warning, not that I would expect him to, had the mayor/administration admitted to and accepted responsibility for their lack of timely snow removal and not pointed fingers at the City Council, this recap from me would read differently.
If you didn't get a chance to watch Wednesday night you can still do so.  The briefing was requested by the City Council (including me) given all of the feedback we have received from the public about lack of removal, dangerous passages, and perplexities about streetsweepers on roads not cleared, to name a few.  The presentation started right at 7 and lasted for about an hour – you can
watch it online HERE
.
This was the first major snow emergency under this administration and the presentation began with an overview of the chain of command: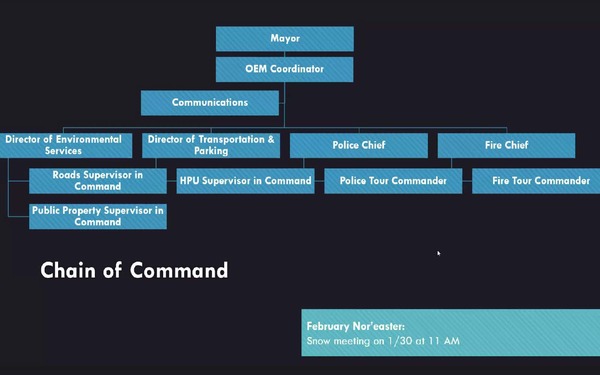 After determining that it was going to be a 40-slide presentation on the strengths of city's snow operations, Council President Ramos asked that we instead shift to discussing the event itself so we could all understand what happened, why after two weeks snow had not been removed, and what we could do better next time.
The three main discussion topics were (1) clearing of crosswalks, corners and ADA ramps, (2) the delay and lack of snow removal and (3) the lack of use of the city's snow melter.
Crosswalks and Corners
The focus of this point was the situations where corners and ADA ramps were not consistently cleared creating lack of access and dangerous conditions for pedestrians.  You may or may not know this,
but property owners are responsible for clearing a 4' wide path in the snow on the sidewalks on their property within 6 hours of a storm
(link to code) and can be fined if they do not do this.  This includes any and all public facilities including corner ADA ramps, fire hydrants, and mail boxes.  The City is not responsible but we do have vehicles that traverse Hoboken clearing crosswalks and in many instances helping property owners clear corners in heavily trafficked areas.  The general consensus was that although sidewalks were well maintained in most instances, property owners may not be aware of their responsibility so the city should consider better ways to inform, enforce and do what it needs to do to ensure safety at our crossing points after a storm.
What YOU can do is if you see a sidewalk or intersection that is not cleared, file a
311 report
or let
a City Council person
know.  Several of you did this and each time I raised with our Environmental Services Director, they quickly addressed it.  We were told last night that the city issued 43 tickets for non-compliance with our snow removal laws.
Street Snow Removal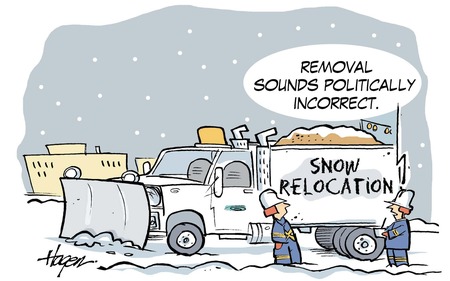 This was a more difficult discussion.  Mainly because it has been over two weeks since the big snow event and the snow was still not removed.  This is not only a "Quality of Life" issue for Hoboken residents, it is a safety one.  And we are all seeing our neighboring cities have their streets cleared more quickly.
After a lot of back and forth, where we got to is that this administration seems to have changed course from past practices of clearing streets of cars via emergency action / temporary no parking signs / towing to facilitate the removal of snow.  In the past, the city would suspend street cleaning until snow was removed, put up temporary no parking signs to clear the streets of cars and tow any that were not cleared.  And they would bring in outside contractors with payloaders and clear several blocks at a time.
The change this time was not to tow at all, was not to use outside contractors, to clear only during street cleaning hours (and use street sweepers for some reason), and not actually remove any snow (just relocate it) for almost two weeks.  The questioning about why the change in policy began something like this:
Me:  In the past we have used temporary no parking signs and towed to remove cars and cleared all the snow within a few days, why aren't we doing this this time?
Business Administrator: The Council made changes to the temporary no parking laws so we couldn't give notice easily…
CPres Ramos: The city has emergency authorities it can use.
Me:  I think Council VP Giattino sponsored an ordinance a year or so ago that we passed giving the city the ability to tow cars during an emergency to a city location to lessen the towing burden on residents…
Head of HPU:  That ordinance only allowed us to tow to a city owned lot that is current an active monthly parking lot.
CPres Ramos: The city has emergency authorities that other mayors and administrations have used that allowed the city to tow cars.
The administration raised then that towing cars is considered a seizure under state law which I responded clarifying that it wasn't with proper notice [or with emergency authorities].
Don't get me wrong, I am not advocating for predatory towing.  What I am advocating for is an actual snow removal program in our city that measures success by removing snow quickly which was not the case this time.
Snow Melter
So… No, we cannot dump snow into the river.  In 2016 the prior administration purchased (with the full support from the City Council) a used snow melter for $65,000 from the County which wasn't using it.  We effectively have to store it and either have it melt naturally or help it melt via a snow melter.  Apparently though, the administration has chosen not to use the snow melter because it requires a lot of labor, is environmentally unfriendly (runs on diesel) and costs about $2,300/day to use.  I don't know if $2,300 gets you 2 cleared blocks or 50 cleared blocks so can't gage whether this is expensive or not.  But the meeting, there seemed to be consensus that if it isn't feasible to use, the city should get rid of it.
There has been a lot of recent interest in and social media coverage of this mysterious snow melter.  Including a statement from Hoboken's spokesperson that its location is being kept hidden (in hindsight maybe because the city didn't want the public to know it wasnt using it?) … Chris Halleron from HMAG's article I think best captures it all in…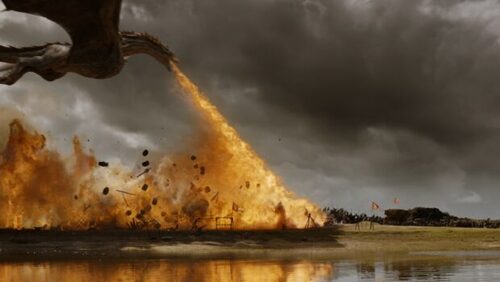 Because of the public safety and quality of life concerns relating to snow emergencies, to me, the measure of success for snow removal is getting it removed as quickly as possible.  And I don't think 2.5= weeks is considered a success.  Hopefully the briefing requested by the Council Council has raised awareness and will prompt the administration to revisit their practices and find better ways so that our next big snowfall will have a better response.

As always, feel free to email me at
CouncilwomanFisher2@gmail.com
or call me at 201-208-1674 to discuss what you have read or anything else that is important to you.  Be safe and have a great rest of week!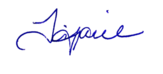 Tiffanie Fisher
Hoboken City Council, 2nd Ward
Engage. Inform. Advocate.
"More Voices are Better"
===========================================
Do you have a news-tip or want to share a story with us? Please Fill out the following form. Anonymous tips are also welcome.